About Schreder Kazu
Brochures

Schreder Kazu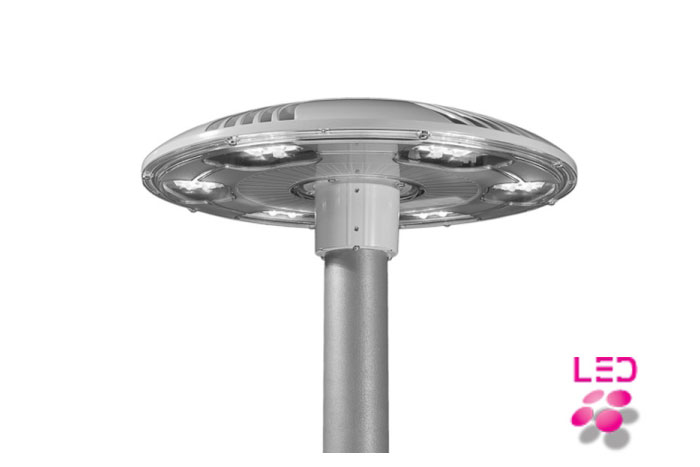 Inspired by the Kaza hat worn by the samurai, the Kazu is an excellent example of adaptability, anticipation and flexibility. Its minimal and modern look is designed around the compactness of the LED engine, blending into your landscapes while providing sustainable lighting solutions that dramatically reduce energy consumption and improve visual comfort for motorists, cyclists and pedestrians.

Reliable, efficient, discreet and strong, the Kazu luminaire is supplied pre-wired for an easy installation. The curved cooling fins optimise heat extraction and prevent dirt from entering the luminaire. With virtually no maintenance required and a full 5-year warranty, the Kazu guarantees long-lasting performance and massive savings. Simply turn it on and enjoy your new landscape!

Applications
The KAZU is a luminaire that has been designed for a wide variety of applications from street lighting to general area lighting, for example, lighting squares, parks, residential streets, secondary roads, areas around shopping centres and car parks. It is designed to replace conventional HID post top luminaires. The aesthetic design is optimized for LED characteristics, with several lumen package, starting from 2000 lumens until 6000 lumens, offering a very good alternative for entry-level category.


Types available
Two different versions of the Kazu are available; one with a flat polycarbonate protector and one with a symmetric dome-shaped protector. Both are characterised by the same tightness level (IP 66) and impact resistance (IK 08) to maintain performance over time.

Kazu Standard
Kazu Comfort
Mounting
KAZU is a post top luminaire that can be provided with and without mains cable. It offers slip-over mounting onto a 60 or a 76mm spigot with mounting height options of 3m up to 6m.

The KAZU is designed to be an efficient, discreet and flexible luminaire. With its minimalistic design it could easily blend into your landscapes while offering advanced efficiency based on the proven LensoFlex®2 LED engine. Its versatility gives you the option of control solutions such as photocell and/or Owlet control systems for autonomous and interoperable networks. The luminaire is equipped with a surge protection of 4kV (10kV optional) and has ThermiX® component that withstands countries with high temperatures of up to Ta 50°C.

Key Advantages:

Cost-effective and efficient lighting solution for a fast return on investment
LensoFlex®2 photometric engine with photometry adapted to various applications
IP 66 tightness level
ThermiX®: resists high temperatures (Ta 50°C)
2 designs: standard or comfort
Post-top mounting adapted to Ø60 and Ø76 mm poles
Surge protection 4kV (10kV optional)
5 year warranty
Optional control solutions: photocell or Owlet contol systems for autonomous and interoperable networks
No uplight
FutureProof
26 55 00 - Special Purpose Lighting
26 56 00 - Exterior Lighting

Categories: luminaire, pole light, street light, lamp post.