About Schreder Shuffle Luminaire
Brochures

Schreder Shuffle Luminaire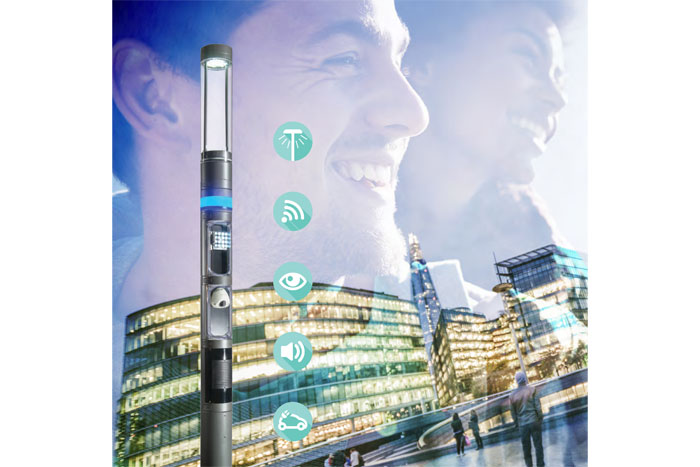 This modern interface creates added value for outdoor living spaces. With integrated features such as loudspeakers, CCTV, WLAN, EV chargers and visual guidance, the Shuffle goes far beyond professional lighting. It creates the best conditions to make people truly feel at home in public areas.

The safety, comfort and the sense of well-being provided by the Shuffle invites people to enjoy public areas both by day and by night. By creating better living spaces, the Shuffle encourages social interactions.

Thanks to a smart design, the Shuffle is an affordable, complete solution that requires very low maintenance. Providing multiple requirements in a single column minimizes the material needed in spaces and lowers the carbon footprint of an installation.

Information, identity, safety, communication, entertainment, health and mobility. Just imagine that you can fulfill and monitor all the societal needs in public and privately-owned areas with the same system. No need to multiply the devices each time you identify a need for your environment. All your different features can be gathered together in one complete network. Not cast in bronze, but with versatility and prepared for future evolution.

The Shuffle is the absolute platform for managers of living spaces. It is our most human solution to date.

Beyond Lighting Features
WLAN
Professional and secure wireless network

Available in a 360° lighting module or in a dedicated module
Mesh network
2 versions: short range (30 to 50m) or wide range (up to 150m)
Dividable bandwidth: e.g. to assign a dedicated part to city operators and a restricted bandwidth for the general public
CCTV
Professional camera network

HD 1920 x 1080 / angular field of view: H: 103.1° / V: 53.9° / D: 124.5°
Image optimization (backlight, contrasts, night vision, high luminosity)
Privacy layers
ONVIF communication standard
Event triggering: motion detection, video analytics, tampering
Data optimization: selected and/or delayed transmission, on-site recording (SD memory slot)
On-site tilting settings: +45/-45°
Loudspeaker
Professional sound system

100V public address system
Frequency range: 100 – 18,000Hz
Perfect sound - 20W power output
Weatherproof / adapted to indoor and outdoor applications
EV charger
Professional charging station

AC charging
Sockets for all continents
Lock recognition
Magnetic safety during charging
Theft/vandalism protection
Plug and Play Philosophy
Taking advantage of a unique energy supply grid to deploy multiple services, the Shuffle gathers all features together in one single pole.

All the modules are delivered pre-wired. Quick connectors and a fool-proof mounting system guarantee a very easy and quick onsite installation.

The cabling - whether it concerns the power supply, internet connection, sound or another integrated option - arrives in a dedicated box at the bottom of the pole.

Access to the fuses, mains and dedicated connections can be gained by opening a door.

This smart design means that the modules do not need to be opened and speeds up the installation process.


Technical Features
ON-SITE ADJUSTMENT
The inclination angle for the spot module can be adjusted on-site with a range of 50°: from +10 to -40° for downlighting and from -10° to +40° for uplighting.

CAMERA ANGLE ADJUSTMENT
To ensure that the camera covers the required area, the position can be fine-tuned on-site while the camera is filming. It is thus possible to see the image live and to be certain that the chosen angle provides the necessary coverage. The angle can be adjusted from -45° (down) to 45° (up).

QUICK CONNECTORS
The Shuffle modules are delivered pre-wired and equipped with quick connectors to gather the different power supplies (e.g. the WLAN is powered 24h a day and the lighting modules only at night) and control features.

EASY MOUNTING SYSTEM
The flare male and female parts of the modules are designed to smoothly overlap. They encompass gaskets. Two clamps lock them together to ensure the perfect tightness of each module and to join the modules in a single column. The rotatable modules can be oriented in the desired direction before the final lock. Dedicated embellishment parts hide the screws once the modules are locked, providing a smooth finish for the whole column.
26 50 00 - Lighting
26 55 00 - Special Purpose Lighting
26 56 00 - Exterior Lighting
28 20 00 - Video Surveillance