Seven Intriguing Bathroom and Kitchen Trends to Watch Out for In 2021
The upheaval and challenges of 2020 gave the interior design world much to contemplate. As we start a new year, the team at Hansgrohe Middle East predicts seven of the more interesting design trends likely to shine over the next twelve months.

1. Contactless taps and faucets
As we start to move past COVID-19, the desire for strict hygiene will remain – especially since 80 percent of all infectious diseases are transmitted via the hands. That is why sensor-controlled taps and faucets which offer hygienic comfort and save resources will be on the rise, everywhere from hotels to airports to the home. (Image: AXOR Citterio touch-free wall fitting.)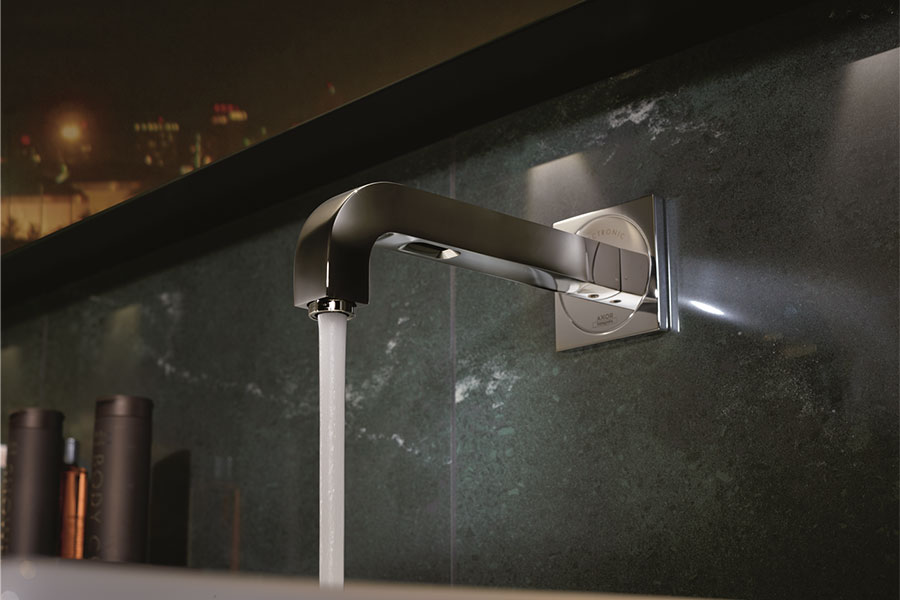 2. Mixed Statement Stone
Whether it's dramatic veining or unique materials, countertops, backsplashes and islands are set to make a strong statement in stone. The difference in 2021 will be a willingness to mix different types of stone for a more daring aesthetic – limestone, granite, marble, granite; all will be in demand.
3. Luxurious bronze and gold finishes
Golds and bronzes in the bathroom and kitchen has been a steadily rising trend, but 2021 could see it soar as a new love of metallic luxury comes to the fore. As an example, here we see Polished Gold Optic and Brushed Bronze as exclusive AXOR FinishPlus surfaces used in an exclusive project recently completed in Prague's residential sixth district overseen by designer Ivanka Kowalski.
4. Integrated Lighting
When it comes to a clean yet creative look, nothing tops integrated lighting. For example, cutting edge bathroom design in 2021 might use illumination behind mirrors to highlight heavily-veined stone walls. Intelligent lighting as part of the 'design drama' is sure to be big news.
5. Restaurant Quality Kitchen Fittings
Lockdowns during 2020 saw amateur home chefs take things more seriously, The knock-on effect will be a demand for high tech, restaurant-style kitchen fittings. A great option is the award-winning hansgrohe Aquno Select M81, a new system consisting of unconventional product design combined with innovative spray technology and tailored accessories.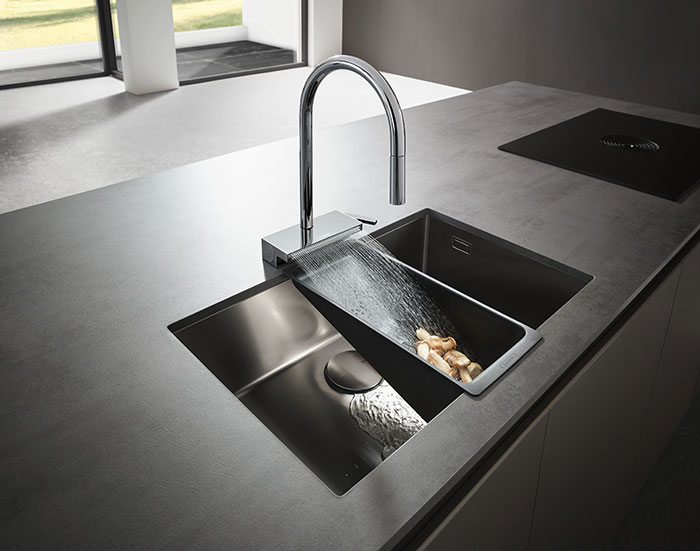 6. Green Cabinetry
Gorgeous green looks set to be the new bright white in 2021, notably in cabinetry. Dark greens, forest greens – and every shade in between – will be a palette in high demand, especially in 'Old World' style kitchens.
7. Perfect Personalisation
"Luxury should be personal" is an ongoing trend for 2021. AXOR MyEdition is a collection for this age of personalisation. Flat, modern and supremely minimal, mixers can be topped by an elegant cover plate in the material of one's choice. Select from rich Nappa leather, radiant mirrored glass, warm black walnut veneer, cool white Lasa marble and more. Or take the quest for individualisation even further with the help of AXOR Signature services. Once the cover plate has been selected, AXOR MyEdition can be finished in one of 225 different AXOR FinishPlus colour and bi-colour options including trending Brushed Brass, Polished Red Gold, Brushed Red Gold, Brushed Nickel, and Brushed Black Chrome.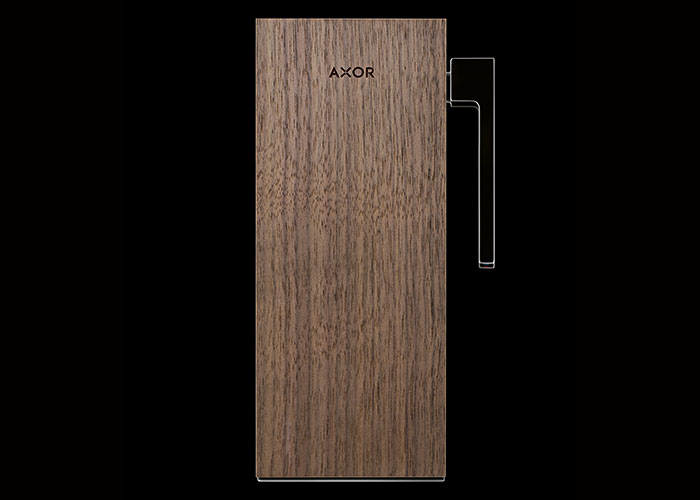 @Hansgrohe_PR #Hansgrohe #Axor
Website:
https://www.hansgrohe.com/