Shades of Ritmonio: elegant in style and strong in personality
The Ritmonio proposal stands out for versatility and high possibilities of customization. All elements combine from one side, harmony and balance and on the other side, function and practicality.

Thanks to a continuous technological and design research, severely "made in Italy", the Company has become the leader in matching an selecting the finishing, to satisfy at best the needs of design, quality and efficiency of architects and designers.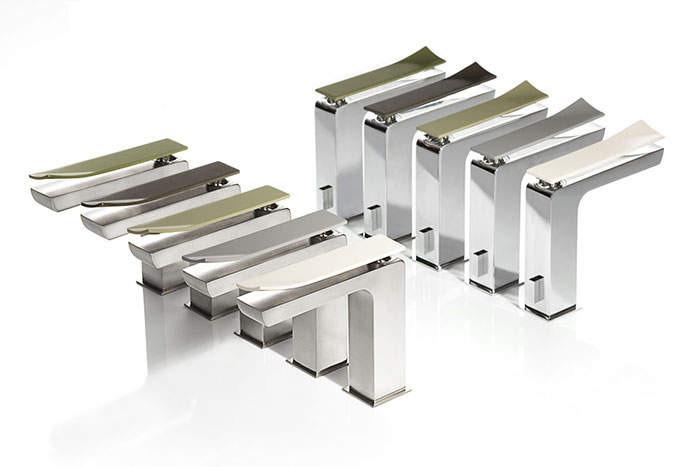 A wide choice of finishing and materials is the answer of Ritmonio to the ever growing needs of customization of the house design. Several proposals to make the choice of everybody unique and characteristic.

Ritmonio offers a wide range of finishing from bright chrome to brushed but also brushed stainless steel to assign a healthy character to products. It also offers the more impudent and up to date black chrome and brushed black chrome and the classic and fascinating gold, brushed gold and brushed bronze.

To give more personality to products you have the opportunity to match the handles in colours: Agave, Tufo, Brina, Tabacco e Talco to their mixers of the Tweet Colors series. Or you can choose a new material "concrete" for Diametro35 Inox Concrete and Haptic.

Therefore Ritmonio offers various aesthetical solutions that are modern, elegant and essential, made to enhance the rooms of private houses, residences and hotels.

Unique surfaces and exclusive textures, according to Ritmonio style and in their variety, complete the bathroom so it becomes a dynamic and changing room for design devoted to relax and well being.

Website:
http://www.ritmonio.it