Shams Dubai initiative creates new energy landscape in Dubai
British ESA astronaut Tim Peake took some incredible photos of Dubai and Palm Jumeirah from a space station recently. He tweeted: 'Here's #Dubai at night – always easy to recognise.'

The day picture will be even brighter with the Shams Dubai initiative, when Dubai's rooftops glimmer with photovoltaic (PV) panels, which are connected to Dubai Electricity and Water Authority's (DEWA's) grid. Shams Dubai aims to encourage the use of renewable energy and increase its share in the energy mix.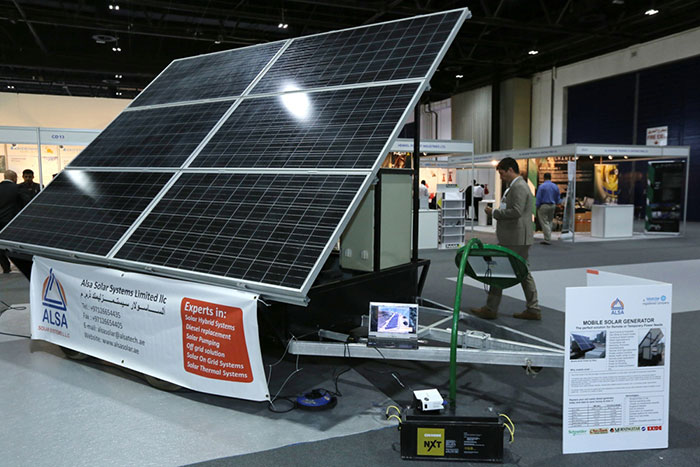 The Shams Dubai initiative will have a prominent place at the Water, Energy, Technology, and Environment Exhibition (WETEX 2016), organised by DEWA from 4 to 6 October at the Dubai International Convention and Exhibition Centre. It also coincides with the inaugural edition of Dubai Solar Show which is a key platform for the solar-energy sector. Both WETEX and Dubai Solar Show highlight the latest innovations and provides unique platforms to build partnerships among government and private sectors for sustainable energy solutions.

The use of PV panels to produce energy is growing around the world. Following the success of large utility scale projects, Solar PV has permeated into models for individual homes and rooftops. It is now common for residential and commercial buildings to generate electricity from solar panels and transfer any surplus back to the electricity grid.

PV energy systems use photo voltaic cells to convert sunlight into electrical energy. These cells are made of semiconductors, used to assemble PV modules (components used in PV systems). A range of factors influence the performance and benefits of a solar PV system, including the direction of the surface of the building, the level of shade, and surface, as well as the type and size of equipment used.

Countries tend to adopt renewable energy sources which are most abundant based on their geographical characteristics. Solar technologies are a preferred source of energy in the Middle East as the region is located in the Sunbelt, which has a high level of solar radiation. The UAE under the directives of its wise leadership, is preparing for a future without oil, and is therefore focusing on solar energy for energy security and sustainability.

"We are working on diversifying our energy mix, in line with the directives of HH Sheikh Mohammed bin Rashid Al Maktoum, Vice President and Prime Minister of the UAE and Ruler of Dubai, and in implementation of Dubai Integrated Energy Strategy 2030 aiming to diversify and develop energy resources, ensure renewable and sustainable energy resources, and healthy environment, achieving the objectives of the UAE Vision 2021 and Dubai Plan 2021. We recognise the importance of renewable and sustainable energy in preserving the environment, and to achieve sustainability of our natural resources, thus ensuring a better future for generations to come. Therefore we launched the Shams Dubai initiative as part of our efforts to achieve the Smart Dubai initiative which aims to make Dubai the happiest and smartest city in the world," explained HE Saeed Mohamed Al Tayer, MD & CEO of DEWA.

"DEWA invests heavily in innovation in the field of renewable and clean energy technology. We work according to the instructions of HH Sheikh Mohammed bin Rashid Al Maktoum, who said: "Every dirham invested in the development of clean energy sources is a dirham invested simultaneously into protecting the environment for generations to come". The Shams Dubai initiative is an integral part of the Dubai Clean Energy Strategy 2050 to transform Dubai into a global hub for clean energy and green economy, and to provide 75% of Dubai's energy through clean sources by 2050.

"Solar energy is a renewable form of energy that is clean, safe, unlimited and does not cause carbon emissions, and is therefore sustainable for our environment. It also reduces our dependence on conventional energy such as gas, oil and coal," Al Tayer emphasised.
DEWA has outlined easy steps to install photovoltaic systems in buildings to generate solar power as part of the Shams Dubai initiative. The process starts with the customer contacting one of the DEWA accredited consultants or contractors to do a feasibility study to get the best PV solution. After the consultant or contractor gets the necessary approval from DEWA, they undertake on-site work, submit a notification to DEWA to do a technical inspection and install the meter to complete the connection process. Immediately after this, the customer can use solar power for his/her home.

DEWA enrolls consultants and contractors to ensure solar systems are properly installed. Such companies must have valid trade licenses from the Department of Economic Department and employ personnel certified by DEWA as solar PV experts. Certification stems from a specific training programme organised by DEWA to familiarise them with the technical requirements and safety standards. All system designs must comply with DEWA's regulations for electrical installations and with the standards specifically set for Shams Dubai. These rigorous requirements reflect DEWA's efforts to ensure that the solar PV technology systems used for the Shams Dubai initiative follow the highest standards of safety and quality.

The launch of Shams Dubai initiative has created a significant momentum in the solar industry in Dubai, and more than 40 companies are currently enrolled with DEWA as consultants or contractors for Shams Dubai.