Shortlist revealed for the 2018 Index Architecture & Design Awards
The shortlist is today revealed for the 2018 INDEX Architecture & Design Awards – the Middle East's leading independent celebration of generation-defining new builds, renovations and interior spaces.

Spread over 14 categories, the annual prize-giving will honour the vision, hard-work, innovation and pizzazz of the region's leading design and architectural firms, with projects across the residential, hospitality and commercial sectors all earning nominations.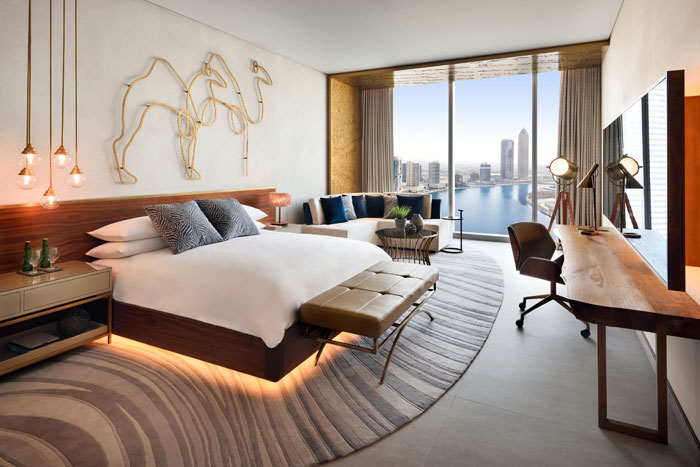 Best Hospitality Design Projectt, WA International, Renaissance
Now in their fifth year, the awards – the ceremony of which takes place on the second evening of the INDEX exhibition, March 27th – will also reward the creative minds driving design forward, with awards for Rising Star, Design Leader and Design Firm of the Year.

Leading the charge are Dubai-based firms DWP and Bishop Design, with five nominations each. Wilson Associates, whose new self-styled office in Dubai Design District is in the running for Best Commercial Project, have four, as do Swiss Bureau Interior Design.

Notable projects in the running include the new Renaissance Hotel Downtown Dubai, the Fairmont Quasar Istanbul, the Mirror Pavilion in Isfahan, Iran, and the self-styled family home of Gensler designer and last year's INDEX Rising Star winner, Yasmin Farahmandy.

Samantha Kane-Macdonald, event director at INDEX, said: "It is always nigh on impossible to whittle down our award entries to a final shortlist and this year proved no exemption; not only did we have a record number of entries – with 147 individual submissions from more than 70 different firms – but were faced with a truly awe-inspiring catalogue of exceptional builds and spaces.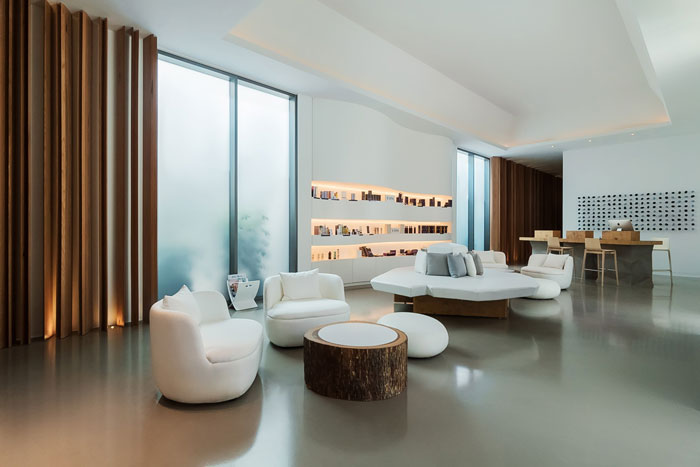 Best HealthcareWellness Design Project, Nikki Beach Resort & Spa

"These projects and the genius minds driving them are the key to this region's future, not only as a forward-looking part of the world for people to live, work and thrive in, but also in further cementing its status as a hotbed of sublime architecture and design that many other continents look to for inspiration.

"To be able to celebrate the people that give this industry its dazzling reputation is always a massive honour for us. Our two most popular categories this year were Design Leader of the Year and INDEX Rising Star, which itself pays testament to the degree of expertise and ability in architecture and design across the board."

The final shortlist is now in the hands of eight expert judges. Benjamin Piper, Partner & Design Principal, Killa Architectural Design; Carol Finnie, Head of Design, dwp; Indu Varanasi, Design Director, IR Design; Justin Wells, Head of Lifestyle Interiors, Woods Bagot; and Maliha Nishat, Head of Interior Design, Marriott, make up half of the judging panel.

They are joined by Marcos Cain, Principal & Founder, Stickman Tribe; Mike Lewis, Director Design Studio, Meraas Development; Chris Johnson, Managing Principal and Creative Director, Gensler; Matteo Bianchi, Matteo Bianchi Studio; and Jo Hamilton, founder of Jo Hamilton Interiors.



Best Commercial Design, Wilson Associates

All the winners will be announced at the INDEX Architecture & Design Awards ceremony – where Boss Design; Hawa Sliding Solutions; Windows, Doors & Facades; the IE School of Architecture and Design and OFIS all sponsor categories – on the second evening of this month's INDEX exhibition.

Taking place at the Dubai World Trade Centre March 26th to 29th, the four-day festival of design is promising a hugely diverse and creative catalogue of furniture, furnishing and décor suppliers, an OFIS-sponsored Design Talks schedule featuring the pinnacle of local and international design minds, and bespoke live demonstrations and experiences brought to Dubai exclusively for the show.

Included amongst those features will be the first ever Ventura Dubai; a pool of more than 40 up-and-coming and established European designers, labels and studios, chosen specifically by Dutch design agents Organisation in Design for their debut Middle Eastern Ventura Project.

Dubai follows in the footsteps of Milan, London, Berlin and New York in being chosen to host one of the globally-renowned design gatherings.

INDEX will explore the theme of Design for Expression: how interiors can be used to illustrate individuality, and runs alongside sister events WORKSPACE and SURFACE Design Middle East.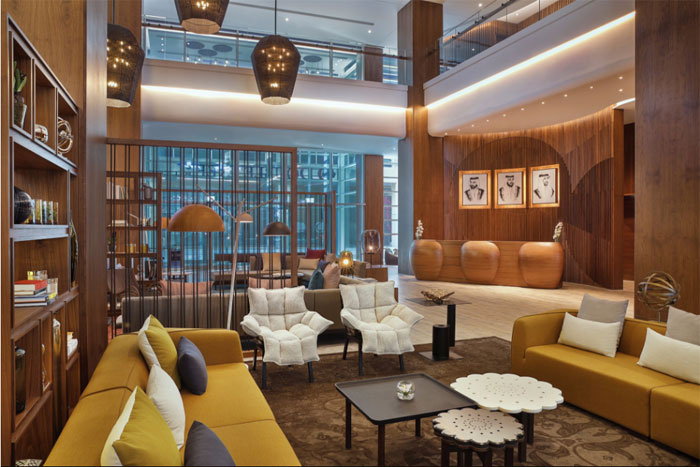 Best Design Firm, DWP

The INDEX Architecture & Design Awards 2018 full shortlist is as follows:
Best Café, Bar & Lounge Design Project
Bishop Design: Larte
Broadway Interiors: LSB
Light Space Design: Drop Coffee
WA International: Poppy
Best Healthcare / Wellness Design Project
Brand Creative: Rosanno Ferretti
esadore Creative: Intercontinental Hotel Resort Spa, Fujairah
Nikki Beach Resort & Spa Dubai: Nikki Beach Resort & Spa Dubai
Splyce Interior Design: Dr Joy
Best Institutional, Sports or Educational Design Project
ATI Consultants, Architects & Engineers: The American School of Creative Science
ELIEMETNI: Eco Nursery
Hoehler + alSalmy: History of Science Centre
Swiss Bureau Interior Design: Tecom Auditorium
Retail Design Project of the Year:
Amitis Design
Bluehaus Group
IN Architects
Kinnersley Kent Design
Best Refurbishment Design Project
Draw Link Group: Radisson Blu Resort & Spa Tunisia
Pallavi Dean Interiors: Shababeek
S2 Interiors: VX Studio/Opaal Interiors Office
Sharon Jutla Interiors: Pizza Express
Fit-Out Contractor of the Year
BW Interiors
Gemaco Interiors
ISG Middle East
La Sorogeeka Interiors
Plafond Fit Out LLC
Summertown Interiors
The Index Rising Star Award
Anita Bir, Hirsch Bedner Associates
Brylle Anthony Revelo, VX Studio / Opaal Interiors
Dilara Ajun, ATI Consultants, Architects & Engineers
Israa Mahmoud, 10Concepts
Kamsin Mirchandani, Swiss Bureau Interior Design
Muhammad Absah, Dar Al Handasah
Natasha Ahmed, Lulie Fisher Design Studio
Rawaa A. Abdulkarim, DWP
Best Restaurant Design Project
Bishop Design: Toro + KO
Bishop Design: Waka
Creneau International Middle East: Cho Gao
Wilson Associates: Fairmont Quasar Istanbul
Best Residential Design Project
AAC Interiors: Family Home
Bishop Design Residential: Alef Residences, Signature Apartment
Signature Developers: 118
Yasmin Farahmandy: Meydan villa
Best Hospitality Design Project
DWP: DoubleTree by Hilton Dubai – Business Bay
Nikki Beach Resort & Spa Dubai: Nikki Beach Resort & Spa Dubai
WA International: Renaissance Downtown Hotel
Wilson Associates: Fairmont Quasar Istanbul
Best Cultural Design Project
Godwin Austen Johnson: Al Seef
Lulie Fisher Design Studio: Manarat Al Saadiyat Gallery
Noor Architecture Atelier: The Mirror Pavilion
SSH: Sheikh Jaber Al Ahmad Cultural Centre
Best Commercial Design Project
DWP: The Smart Dubai Office
Ochre: Dubai Holding
Swiss Bureau Interior Design: UNBOX
Wilson Associates: Wilson Associates Studio & Office
Design Firm of the Year
Bishop Design LLC
DWP
Pallavi Dean Interiors
Swiss Bureau Interior Design
Design Leader of the Year
Carol Finnie, DWP
Chris Barnes, Broadway Interiors
Daousser Chennoufi, Draw Link Group
Isabel Pintado, Wilson Associates
Joakim de Rham, Swiss Bureau Interior Design
Martin Lesjak, Innocad Architecture
Muhammad Al Salmy, Hoeler + AlSalmy
Paul Bishop, Bishop Design
Sejal Patel, Gensler