SirajPower adds Apparel Group to its growing portfolio of solar plants in Dubai
SirajPower, the Dubai-based joint venture devoted to net metering and providing comprehensive turnkey solutions around solar rooftops in the United Arab Emirates, continues its growth in Dubai with the signature of a new leasing agreement for a solar system with Apparel Group, a global fashion and lifestyle retail conglomerate known for operating major brands from around the world such as Tim Hortons, Cold Stone, Aldo, Tommy Hilfiger, Sketcher, Aeropostale, Nautica to name a few.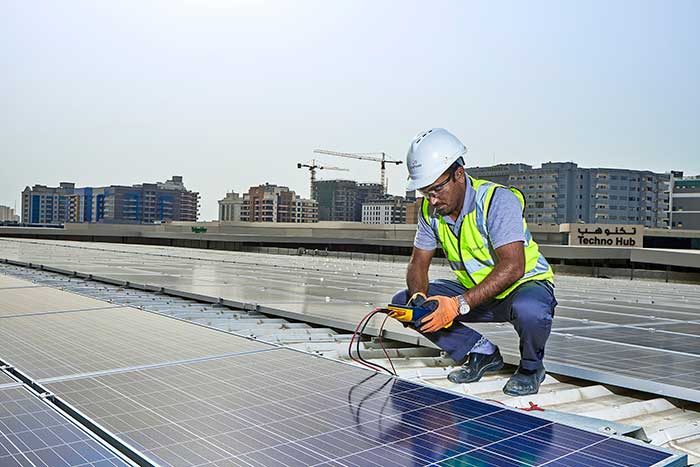 SirajPower has signed a 15 year's leasing scheme under which it will install, finance and operate a 1.8 MWp PV system on two of Apparel's warehouses in Jebel Ali Free Zone (JAFZA). The solar plant is expected to cover more than 50% of the company's electricity consumptions, saving 1,750 tons of CO2 during the first year of operation.

David Auriau, Director at SirajPower said: "Since the beginning of our operations, we have been committed to supporting the Shams initiative. Within a short period of time, we successfully attracted and partnered with major industrial players that adopted our unique solar leasing model to embrace a green footprint in their operations. Our partnership with Apparel Group is the result of our team's hard work to spread the word about investing in clean energy amongst UAE businesses and help us in our journey to make Dubai and the UAE greener. We are delighted to be operating in a country that has invested a lot of effort in taking a global leadership position in renewable energy, a sector that is now a national priority. We share the same vision and are keen to play a key role for a cleaner world."

Nilesh Ved, Chairman - Apparel Group said: "Our partnership with SirajPower is a milestone for us as we start growing our business in a more sustainable way whilst also making consistent energy savings to create a greener footprint. The 'Energy Strategy 2050' launched by UAE's leadership mandates the adoption of innovative solutions to protect the environment for our current & future generation and become responsible corporate citizens; hence our partnership with SirajPower became natural as this partnership fulfils the vision to lead implementation of a sustainable initiative".

SirajPower has currently 16 plants in Dubai in operation or under construction for a total capacity of around 30 MWp. The company has already inked three agreements in 2018 including Al Abbar Aluminium, Landmark Group, Apparel Group and is expected to bring on-board other prominent UAE business soon.