Smart technology key to Farnek's increased share of Abu Dhabi manned security market
Leading UAE-based technology and sustainability-driven facilities management (FM) company Farnek is to benefit from the increased demand for commercial security, particularly manned security detail, over the next four to five years, in the UAE capital.

Farnek's security division, based at its office in Abu Dhabi, has gained significant market share during the past 12 months, thanks primarily to the introduction of its unique smartwatch system and a highly trained workforce able to maximise the benefits this new technology affords.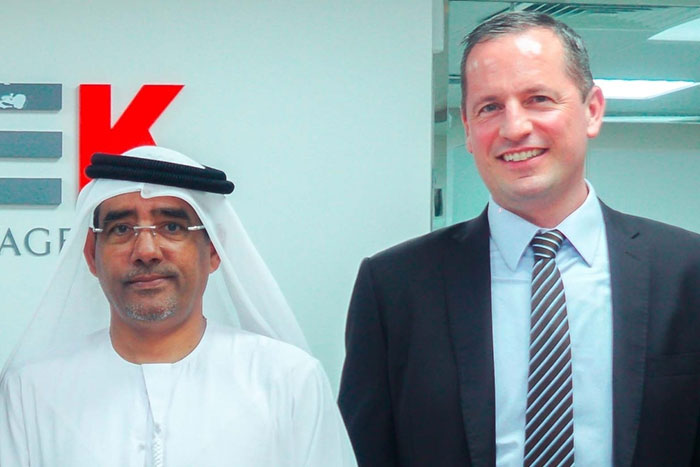 Saeed Tamimi, Farnek Security Manager, Abu Dhabi and Markus Oberlin, CEO, Farnek.
With an existing customer base including hotels, residential real estate and industrial premises, Farnek has seen unprecedented growth in its manned security division in Abu Dhabi. Having launched initially with just 72 guards in 2017, Farnek is now outperforming the market with a current growth rate of eight per cent per month and now employs over 170 guards.

Discussing Farnek's market position and the growth of the security industry in Abu Dhabi, Saeed Tamimi, Farnek's Abu Dhabi Security Manager, said that he expects Farnek's headcount in Abu Dhabi, to more than double within the next few years, as the infrastructure becomes more sophisticated and demand for technology-led security and surveillance increases.

"Security in Abu Dhabi has witnessed incredible growth over the last decade, in parallel with the UAE capital's economic performance and the rapid growth of its infrastructure.

"Naturally, across all vertical industry sectors including tourism, real estate, leisure and banking, end-to-end mobile, digitally led, full protection services, are in high demand. This is where Farnek has been able to capitalise on and expedite its market offering."

In order to satisfy the technology demand, Farnek has invested AED 5 million into research and development to advance, amongst other tech-driven initiatives, its multifunctional smartwatch technology.

Unique to Farnek's security offering, the Android watch is programmed, coded and developed in-house and provides attendance and incident reporting as well as call facilities. All watches are connected to Farnek's state-of-the-art command centre, to pinpoint the exact location of guards and provide them with real-time updates.

"Through embarking on the digital transformation of our services, we've seen a large uptick in enquiries for our unique security service offering. Businesses like the technology, they're encouraged by Farnek's near 40-year pedigree, and they're also reassured by the fact every one of our security guards has either a police or military background," added Tamimi.

According to Gartner, the leading research and advisory company, spending on information security technology and services in the MENA region topped AED6.6 billion in 2017, an 11% increase on the previous year.

Recent market figures from research outfit, Frost & Sullivan, have estimated that the Middle East commercial security market is expected to grow at a compound annual growth rate (CAGR) of 16.5% to AED20.6 billion by 2022.

The research indicated that demand for IP-based video surveillance systems, access control and intrusion detectors would continue to drive the market, which is supported by increased government spending on infrastructure projects and the introduction of new and more stringent regulations, creating additional market opportunities.

According to Tamimi, offering a well trained and tech savvy workforce is essential if clients are going to realise the full potential of their investment in secure technology. And there are add on benefits and niche market openings.

"These opportunities are not only confined to security companies supplying hi-tech equipment and more locally-based manned security details, this sophisticated equipment will need to be installed and maintained, particularly with the UAE's abrasive summer climate. So, we see additional prospects for more sophisticated maintenance as this fast-paced vertical market inevitably grows," added Tamimi.

"This new age surveillance is all about automation, intelligence, and resource efficiency, commented Markus Oberlin, CEO, Farnek.

"We are currently focusing on command and control room solutions, body cameras and Mobile DVRs, time & attendance solutions with Cloud management and video door phone systems," added Oberlin.
@FarnekServices #FarnekServices