Snooze Cozy Deck Chair - New Collections and Range Extensions For 2021
EMU, which has always been synonymous with quality, sustainability, research and innovation, presents important innovations, new collections and range extensions for 2021.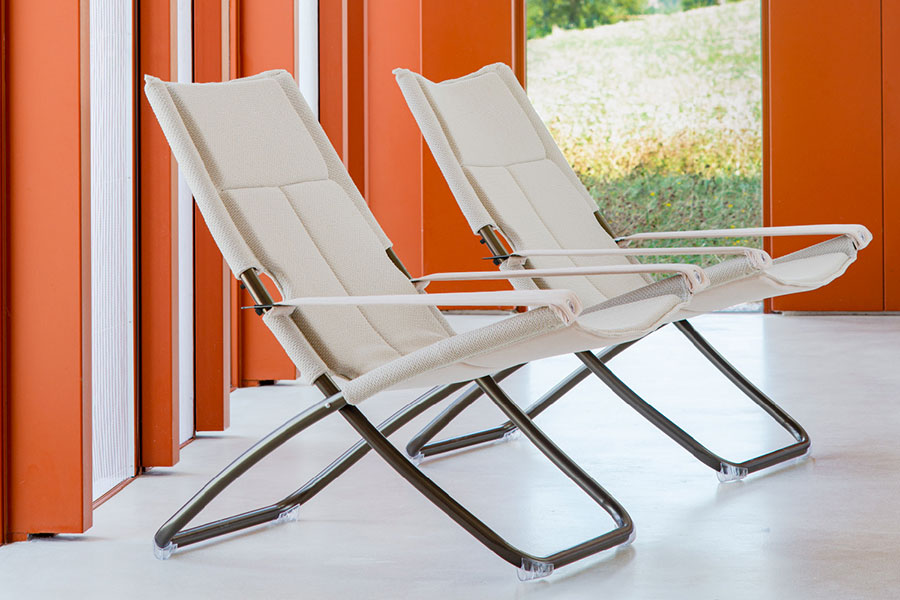 EMU offer is completed and enhanced with proposals that reflect a corporate ethics focused on made in Italy and sustainability. New projects, which aim at an even more transversal use of the product.

As an example, the introduction of the innovative textile collection, consisting of a wide range of fabrics exclusively produced for the company. The result is the birth of 10 moods and new palettes, inspired by the colors of nature and the authentic atmospheres of some of the most iconic italian islands.

Among the new product proposals, Cannolè, designed by Anton Cristell & Emanuel Gargano, a modular sofa system with evocative shapes reinterpreted by a decisive and contemporary design. A creation that is the result of a magic coming from the language of the knitwear tradition, whose lines, inspired by the concept of handmade in rib knitting, follow the same thickened or enlarged regularity of the cannolè.

The seats, embellished with a particular padded cushions, are versatile and customizable, thanks to modular elements with multiple easy-to-assemble compositions. A collection with a timeless style, which fits harmoniously into contemporary, country and classic settings.

Ronda eXtra Strong, the innovative reinterpretation of the historic Ronda, stands out in residential and contract uses for its features of high resistance and stability. That's why the XS acronym: eXtra Stylish, eXtra Strong, eXtra Simple, eXtra Sustainable. Available in 20 different colours, this collection is made up of chair, armchair and stool.

Shade Pro is ideal for shaded areas and privacy for contract and residential uses. An essential accessory even for outdoor evenings thanks to an innovative lighting system, remotely adjustable. The functional and practical method of opening and closing doesn't need to move furnitures and table dressings placed under the sunshade.

EMU offer is completed by some novelties in the pre-existing collections: dining armchair, lounge armchair, sofa, pouf, square and rectangular coffee table for Carousel, designed by Sebastian Herkner; the new Tami version by Patrick Norguet, with a bamboo structure; the Cozy deckchair from the Snooze collection by Chiaramonte-Marin, in the indoor version; the daybed for Shine by Arik Levy and the rectangular table from Nova collection, design EMU, dimensions 120x80x74.

Last but not least, the new proposals for the Plus4 tables, EMU design: Balcony, (120x80 cm), suitable both for small outdoor spaces and for ensuring a greater extension (up to 170x80 cm); Imperial, whose extension, compared to a traditional table, has been designed so as to being able to use many more table seats without getting in the way of the legs, by even reaching the length of 330 cm.

Website:
https://www.emu.it/en/