Solar panels to power four more Majid Al Futtaim malls by 2018
Enova – the regional leader in integrated energy and multi-technical services – will supply solar power to four Majid Al Futtaim malls, delivering expected savings of AED 80 million.
Enova's first solar power deal with Majid Al Futtaim Properties was signed on World Environment Day, the United Nations' annual initiative to promote sustainability.

The deal is set to cut the four malls' carbon dioxide emissions by 3,200 tons per year – the equivalent of taking 700 cars off the roads – and will see the technology installed at Dubai's Mall of the Emirates, City Centre Deira, City Centre Mirdif and City Centre Fujairah. Following City Centre Me'aisem and My City Centre Al Barsha, the first malls to be fitted with solar panels a year ago, this new agreement covering four more UAE malls strengthens Majid Al Futtaim's pioneering role in the region and is the first solar project to involve Enova.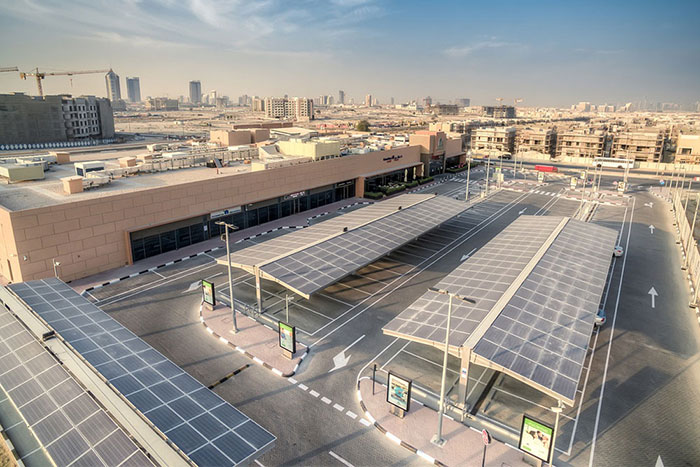 Solar panels contain photovoltaic cells, which absorb energy from the sun and convert it into electricity. The power generated is then fed directly into the malls' electrical network. Under this deal, about 12,500 panels will be installed across the buildings, covering an area of 25,000 square metres, including 1,020 car ports. Feasibility studies are underway with a view to rolling the project out across other assets. The scheme will enable Majid Al Futtaim Properties to generate 6,000 MWh of electrical energy annually, earning it points with the LEED certification system (Leadership in Energy and Environmental Design), the globally recognised green building benchmark.

Enova's CEO, Anne Le Guennec, said: "Every day throughout the Middle East, Enova helps firms achieve their best performance and environmental targets, freeing them to concentrate on their core business activities. Our energy management solutions are based on a comprehensive package of services, including design, commissioning, strategy and long-term maintenance – and when parts eventually expire we'll take them away for recycling."

Benefiting from the global experience of its parent company, Veolia, Enova is able to offer a holistic and circular solution for when the solar panels will need to be replaced after an expected lifespan of around 25 years. The French firm, which created Enova in 2002 in partnership with Majid Al Futtaim Ventures, has helped previous clients recycle worn parts from its renewable energy systems in compliance with environmental legislation such as the European Union's WEEE (Waste Electrical and Electronic Equipment) directive, which requires solar panel importers and manufacturers to collect and process end-of-life equipment.

Fuad Mansoor Sharaf, Managing Director for Majid Al Futtaim Properties, Shopping Malls (UAE, Bahrain & Oman), said: "Investing in renewables aligns with Majid Al Futtaim's commitment to become a regional leader in environmental stewardship, set out in its ambitious Net Positive strategy and Renewable Energy White Paper. We want to lead by example by applying international best practices across our portfolio and have a positive impact on the communities we serve."

Ibrahim Al-Zu'bi, Head of Sustainability at Majid Al Futtaim – Holding, said: "At Majid Al Futtaim our sustainability mission is to enhance people's lives through sustainable real estate. We aim to slash water and energy consumption, creating more of these resources than we consume by 2040, and at least 5 per cent of energy used will come from renewable sources by 2018."

Al-Zu'bi added, "We have made a concerted effort to apply best-practice global green building standards across our premises across the region and have already introduced several energy efficiency measures thanks to the support of Enova. Majid Al Futtaim is excited to keep on building on the partnership with Enova to lead the way towards a more sustainable future."