Spotlight on American Hardwoods at Dubai Design Week 2018
American hardwoods are set to feature widely at the fourth edition of 'Dubai Design Week', which takes place from November 12 - 17, 2018, according to the American Hardwood Export Council (AHEC). With an industry goal focused on developing existing markets and finding new markets and applications for American hardwoods, AHEC has announced collaborations with AR Gallery for its 'Trapeza' seating installation and with Dubai Design District (d3) for its 'Design 100' initiative, both of which will be made using American tulipwood. The two collaborations highlight the beauty and versatility of this little known, yet widely-available species to the design community in the region.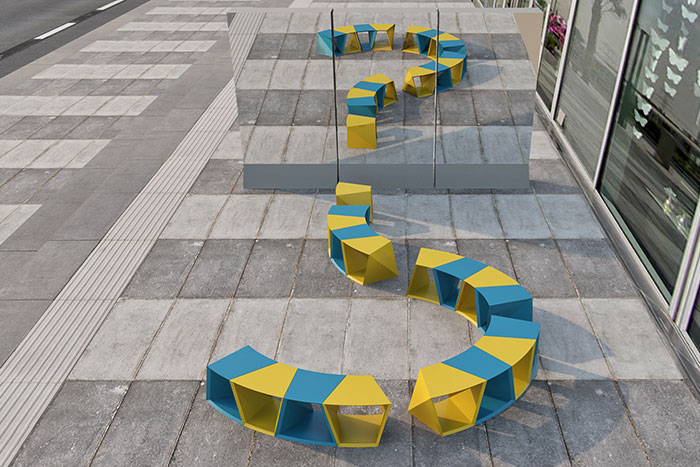 AHEC is supporting AR Gallery in hosting an installation - 'Trapeza' designed by Apical Reform - which is being built out of solid American tulipwood stained in different colors. The installation is being made for and showcased during Dubai Design Week 2018 at the public outdoor area in front of the gallery in Building 6, d3. The design idea behind 'Trapeza' Is to create an interactive installation out of tulipwood that is built to be adapted by the users. The configurable twist of the 'Trapeza' allows endless possibilities for indoor as well as outdoor spaces. The bench, which is formed using a number of modules, gives a seamless linear and non-linear seating option and allows for different placements and the efficient use of any space.

"Collaborative installations have time and again proven to be a highly effective way of stimulating interest and dialogue amongst the design community. More importantly, they help to demonstrate the beauty of widely-available and yet under-utilized American hardwood species. Our partnership with AR Gallery and d3 is in line with our mandate to support events that highlight the very best creative talent and provide us with an opportunity to celebrate design and champion all the good work that is being done using American hardwoods," said Roderick Wiles, AHEC Regional Director. "Building on our LCA modelling data, we plan to calculate and communicate the light environmental footprint of American tulipwood used in
a bid to demonstrate the true sustainability of the material."

Launched under the umbrella of d3's 'Design for Good' project, the 'Design 100' initiative invited designers from across the UAE to design a piece of furniture or a functional object using solid American tulipwood or red oak. d3 is currently in the process of manufacturing 100 examples of the winning design in alliance with AHEC as its Knowledge Partner. These will be sold to the general public during Dubai Design Week and all proceeds from the sale will be allocated to Dubai Cares towards education in developing countries. As a Knowledge Partner, AHEC has elected to undertake a Life Cycle Assessment (LCA) of the project, which will lead to a full Life Cycle Environmental Profile for each of the hundred pieces.

"Tulipwood is the fourth most abundant timber in U.S. hardwood forests, representing 7.7 percent of the total growth, only exceeded by American red oak (18 percent), white oak (15 percent) and soft maple (11 percent). And it is under-exploited. Not only is the amount of growth greater than the level of harvest, but in all states where tulipwood is found, the level of harvest is less than half of the rate of growth. Whilst great strides are being made in wood technology, it is the creativity and inspiration of the design community that will ensure wood realizes its full potential. Our collaborations at Dubai Design Week marry the best of design with the endless possibilities that American hardwoods offer, and we remain positive that American hardwoods will maintain their position as the material of choice for the design community in the years to come," concluded Wiles.