State-of-the-art switchable glass - SmartLite by Emirates Glass changes state in 400 milliseconds
Emirates Glass - the wholly owned subsidiary by Dubai Investments PJSC has announced the launch of the latest technology in glass solutions – SmartLite. The state-of-the-art switchable glass changes state in just about 400 milliseconds at the flick of a switch and turns from a clear to an opaque glass panel to create on-demand privacy while also allow for plenty of natural light whenever needed.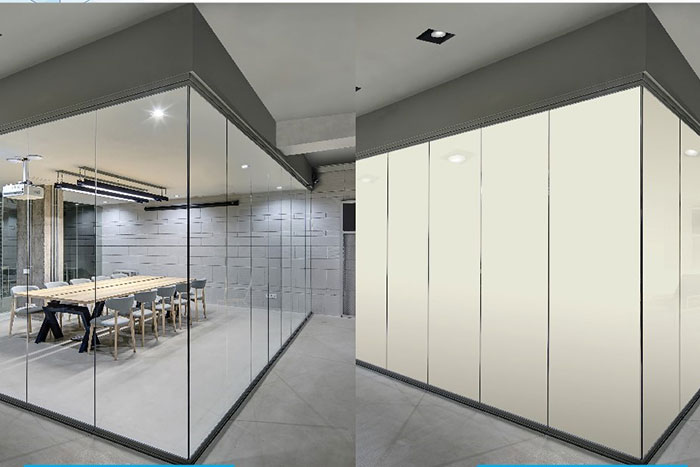 SmartLite's hybrid design element helps to create large open-style spaces by providing a clear vision when switched on, while its classy, milky-white finish integrates flawlessly into contemporary interior architecture when switched off. SmartLite glass panels can be cut into different shapes and designs, and special colours are available upon request. The glass is suitable in a temperature range of -30 C to 80 C, blocks ultraviolet rays.

Comprising two operational states "on" and "off", in the "on" state SmartLite is transparent with full visibility through the glass pane, whereas it appears translucent in the "off" state, allowing a decent amount of light to pass through but effectively preventing see-through.

Announcing the launch of SmartLite, Mr. Rizwanulla Khan, Executive President, Emirates Glass, said, "SmartLite from Emirates Glass is designed to offer a sophisticated and pragmatic solution to on-demand privacy requirements. It has always been our endeavor to target niche markets adding value to our already diverse portfolio of glass products. The idea of Smartlite was conceptualized considering the growing demand for privacy glazing segment and we aim to position Emirates Glass among the leading local manufacturers of switchable glass in the UAE. SmartLite deliverables encompass a complete package from product design over fabrication to installation on site."

Labelled an active privacy glass allowing easy switch, SmartLite can be integrated into the most challenging designs, no matter if frameless, drilled or with cutouts, with ornaments or combined with other design elements, enabling limitless applications.

Design professionals are exploring new ways with increasing novelty, in both residential and commercial projects to specify SmartLite into a wide range of installations. It can be used as partition wall for conference rooms in offices, consultation and patient rooms in clinics and hospitals, designer bathrooms and living rooms, but also in banks and safe deposit box areas, and any other place where security and discretion is important.

The company has employed the expertise of specialists in the field to provide training and assistance for successful fabrication, testing and installation of this product. Emirates glass is constantly trying to innovate products with the best quality of glass and process it locally in their home, the UAE.

#EmiratesGlass #SmartLite