Stone Finish Solutions Continue to Gain Popularity Across the UAE and GCC Markets
Caparol Arabia, Middle East's leading German paint manufacturer, today announced the production of its fifth million CapaStone Bucket following a continuous spike in market demand for premium quality stone finish. Recent events here meant people are spending more time at home driving even greater interest for home repairs and renovations. CapaStone has been in the Middle East market for more than 20 years and has been recognised as the number one stone paint in the region for Façade Solutions.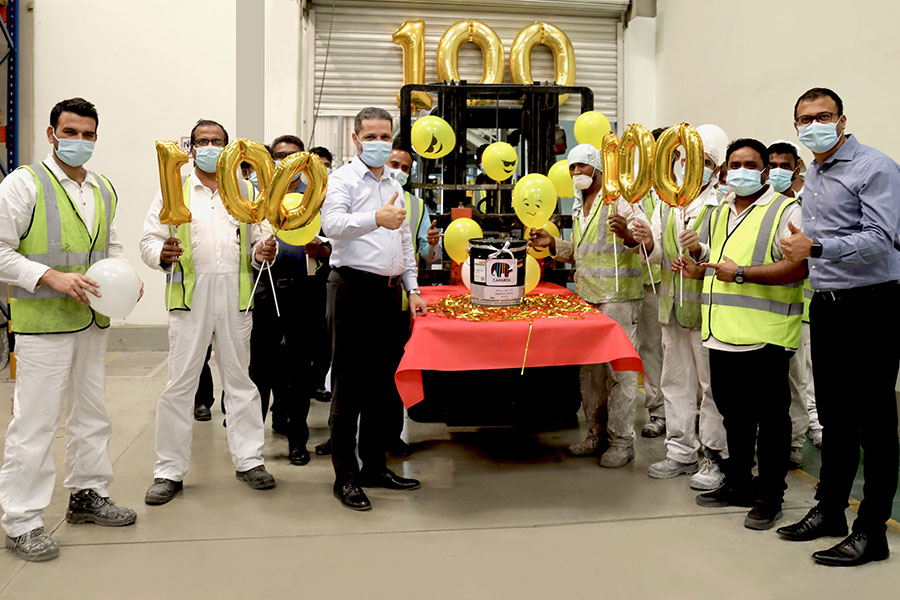 With innovative German technology, CapaStone system uses coloured inorganic crushed natural stone aggregates to give the paint a stone effect with the possibility of multiple façade design options. As the only paint company that uses Nano-quartz matrix technology, CapaStone prevents the adhesion of all types of particles on its surface, providing a clean, fast-drying façade which is easy to maintain.

Martin Rosocha, Managing Director at Caparol Arabia said: "When we started producing CapaStone 20 years ago, we were inspired by the natural scenic beauty and landscapes of the Middle East. Today, we continue to deliver our pledge to produce rich, natural and durable exterior Stone finishes that create impact on the region's market. CapaStone is one of our flagship products that has earned a remarkable reputation in the Middle Eastern paint market for achieving a genuine stone appearance.
The new milestone achieved is testament to the high quality sustainable and innovative solutions we offer to our customers whether they are contractors, applicators or end users."

Mowaffaq Balish, Commercial Director at Caparol Arabia added: "The demand for innovative sustainable and green products has increased over the past few years as people become more and more conscious of the benefits of such paint solutions for their lifestyle and wellbeing. As the trend continue to grow, the sales of CapaStone has increased by 100% over last year. Despite the market conditions and restrictions, our team has reported a spike in demand since the beginning of the pandemic and we faced an exciting challenge to make sure we could supply such a high rise in demand. New technologies can offer a sustainable environment protection and that's what our cutting-edge CapaStone product offers - it is the only trusted product to offer a natural stone-like finish for beautiful walls. With over 25,000 prestigious projects completed to date with CapaStone Finish, there is no doubt Caparol will strengthen its leading market position in Stone finishes across the region."

With the impact of the global pandemic, homeowners and tenants have shown increased interest in changing or upgrading their living spaces. In response to rising demand for quality aesthetic finishes, Caparol Arabia has also dedicated more man hours to deliver the production of over half a million CapaStone Bucket as of September 2020.

CapaStone has earned a remarkable reputation in the Middle Eastern paint market for achieving a genuine stone appearance. Caparol offers over 125 years of global experience and has been family-owned for five generations. The brand was founded in Germany with the invention of emulsion paint technology, which transformed the way people painted buildings and homes. Caparol Arabia was established in 1999 in Dubai and is part of the global company DAW, which has 6,000 employees and is present in over 40 countries.

#caparol #paints #coating
Website:
https://caparolarabia.com/