Studio Bruno Guelaff wins 'Outstanding use of American Hardwood in the Middle East' award
Studio Bruno Guelaff, a boutique design studio which spans an amalgamation of design mediums where creative expression is cultivated, has won the 'Outstanding use of American Hardwood in the Middle East' award for Unique Properties' offices at the Commercial Interior Design (CID) Awards 2016, which took place on Wednesday, September 21, 2016 at the Joharah Ballroom, Madinat Jumeirah, Dubai. The award, which was sponsored by the American Hardwood Export Council (AHEC), the leading international trade association for the American hardwood industry for the sixth year running, was presented by Roderick Wiles, AHEC Regional Director, to Bruno Guelaff, Executive Director, Studio Bruno Guelaff.

Studio Bruno Guelaff was praised by the judges for their 'committed and inventive use of American white oak that defines the space and sets the material rhythm'. The winner was awarded for 'a dynamic and playful use of wood demonstrated in all aspects of the project from bottom to top'. The judges were impressed with the fact that the 'concept is entirely wrapped around the material with wood being used in furniture, lighting and paneling'. Highly commended in the category were MMAC for their work on 'JBR Guest room'. Other nominations for the award included the Dubai Chamber of Commerce & Industry Renovation (AMBB); House of Handsome (Korus Interiors); Pallavi Dean Interiors Design Studio (Pallavi Dean Interiors); and Sisters Beauty Lounge, The Dubai Mall (Brand Creative).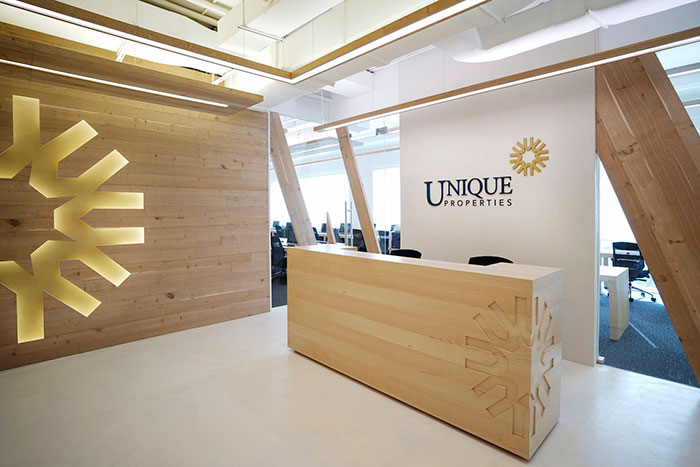 According to Guelaff, the owners of Unique Properties wanted not only a space that would satisfy their logistical needs but more importantly a space that would make a bold design statement all the while creating a modern urban environment for their employees. A wall of American white oak spanning 7 meters with a 2.5 meter high company logo cutout greets visitors at the entrance of the office. Angled wood cladding in white oak in front of all glass partitions help render a 'treehouse' effect whilst also providing privacy in a unique way. In addition, all the work surfaces are made of American ash finished in a matte sealer protecting its light colors. The ash brings a great natural feel to the work space and the light color goes hand in hand with the sap from the oak. "Our design exercise always starts with a study of a company brief to understand the requirements for the project. As such, materials selection was the first and main focus on this project as we wanted to approach the wall cladding in a different manner. American white oak was our first choice for the base as we appreciated its creamy color as well as its lines of sap, which we incorporated into every wall panel," said Bruno Guelaff. "'This project was truly a work of passion. Every portion of the project was custom designed besides computers and task chairs. The wood in this project is the real star and drives the organic energy in the office; therefore it is only heartwarming to win the AHEC award for the project as so much of our hard work focused on the very thing the award celebrates." Commercial Interior Design magazine once again paid tribute to the projects, interior design firms and designers making their mark on the region's interior design industry. Now in its 10th edition, this year's CID Awards ceremony hosted more than 750 influential members of the Middle East's design community. Spanning 17 categories, the awards covered the whole spectrum of commercial interiors, from hospitality to retail and public sector to office. They also focused on recognizing the people who shaped the projects, with categories such as Behind the Scenes, Young Interior Designer of the Year and Interior Designer of the Year. "The CID Awards have proved, time and again, to be an extremely popular, enjoyable and high profile event, attracting all the leading lights of the UAE's design industry. For a once-a-year opportunity to get in front of the region's specifying community, we couldn't ask for anything better. Our category received a record number of nominations this year. We've seen for a long time that the Middle East has a real commitment to sustainable design in principle and through our partnership with the CID Awards, we aim to throw the spotlight on projects where material selection and design come together to make a true difference to the environmental footprint."