Summertown Interiors Completes Fit-out of Royal Ahrend's First Global Healthcare Innovation and Inspiration Studio
Summertown Interiors, the UAE's leading fit-out contractor specialising in green interiors, collaborated closely with key healthcare suppliers to complete the fit-out of Royal Ahrend's first global Healthcare Innovation and Inspiration Studio located in the heart of the Dubai Design District (d3).

Royal Ahrend, an international leader in office furniture and market leader in the healthcare sector in the Netherlands, hosted an official opening ceremony on 25 April 2019 under the patronage of Jan Arentoft, Managing Director Middle East Royal Ahrend; Marwan Abdulaziz Janahi Executive Director, Dubai Science Park; His Excellency Mr. Hans Sandee, Consul General of the Kingdom of the Netherlands to the UAE; Mr. Eugene Sterken, CEO Royal Ahrend; Karim Khemakhem, Founder and CEO Massa Design and Ahmad Zaarouri, Regional Healthcare Manager Ahrend Gulf.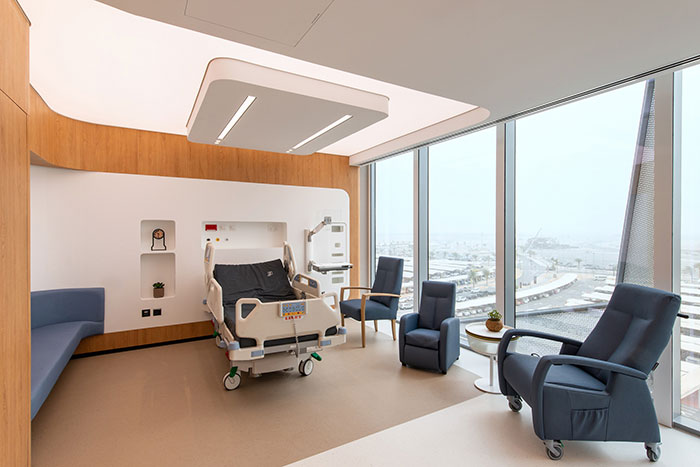 Designed by Massa Design, the state-of-the-art studio was designed to enable healthcare providers to experience and see;

A fully functional interior environment that meets all the demanding healthcare requirements and regulations
Establish an innovative and timeless space complying with wellbeing design principles
Improve healthcare design-oriented solutions that meet today's patients' demands
Showcase the latest equipment and sustainable materials
Showcasing around 20 different healthcare equipment and material suppliers, the studio encompasses a waiting area, separate meeting room and doctor's office. It also incorporates a fully-fitted patient room with caregiver zone.
The healthcare market in the UAE has developed rapidly in recent years. Ahead of Expo 2020, billions of dollars are being injected into building and nurturing healthcare facilities that meet international standards in terms of design, technology, and infrastructure. According to a report by MENA Research Partners (MRP), the country's healthcare market is projected to be worth $28 billion by 2021.
Healthcare providers are becoming increasingly aware of the importance of interior design and physical environments in the success of patient treatment and recovery. The positive healing effects of specifically designed and built healthcare facilities extend to families, employees and practitioners' alike — all looking for welcoming, functional environments that provide positive healthcare experiences.
Marcos Bish, Managing Director at Summertown says: "The new Royal Ahrend Healthcare Innovation and Inspiration Studio reflects the UAE's journey towards becoming an innovative global healthcare hub. The healthcare industry is one of the UAE's most promising growth sectors and provides vast opportunities for the fit-out industry, and healthcare furniture and medical suppliers. Our core values and practices of sustainability, quality and functionality are clearly aligned to those of the healthcare sector – we want to create inspiring and sustainable environments for people to heal and work in, and to play our part in the sustainable development of the UAE."
The Ahrend Healthcare Innovation and Inspiration Studio is a permanent showroom in the Dutch Design Center in d3 that will not only enable Summertown, Ahrend, and Massa to showcase their fit out, interior design solutions and products, but will also act as a knowledge and training centre.
Speaking on the new venture, Khadija Al Bastaki, Excecutive Director of d3 said: "We are delighted that so many of our business partners have collaborated to offer something so unique to the design community. The launch testifies the growth of the design industry and demonstrates that design can be implemented in many diverse fields for the benefit of all."
@SummertownUAE #SummertownUAE @Ahrend #Ahrend @massaglobal #massaglobal