Summertown Interiors new Sustainability Report 2018-19
Summertown Interiors, the UAE's leading fit out contractor specialising in green interiors, has released its 2018-2019 Sustainability Report that demonstrates the tangible economic, social and environmental benefits a sustainable workplace delivers.

Summertown's fourth Sustainability Report is prepared in accordance with the Global Reporting Initiative (GRI), the international standards organization that helps businesses and governments to understand and communicate their impact on climate change.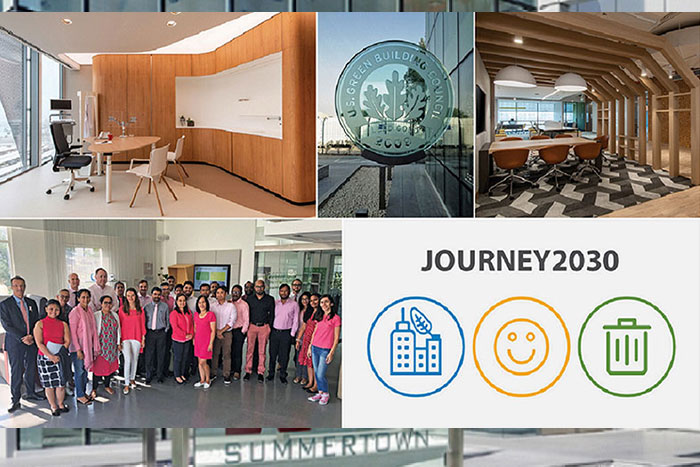 The report highlights the impact of eight material issues Summertown believes matters most to its business and stakeholders, and supports the case for putting in place a sustainability agenda. The eight material issues are: economic performance; environmental impact; people; health, safety and environment; responsible procurement; being part of the community; technology; transparency and anti-corruption.

During the 2018-19 period, Summertown's economic performance was positive with a 13% increase in annual turnover, which is 15% above its 5-year average. In line with the United Nation's (UN) Sustainable Development Goal (SDG) 12 of ensuring sustainable consumption and production patterns, and supporting the 'circular economy' in the UAE, 49% of Summertown's projects met externally accredited sustainability standards this year.

As part of its commitment to reduce the company's environmental impact, Summertown reviewed its long-term sustainability strategy in order to develop a series of goals to guide its approach towards 2030. The three new goals are: deliver 100% sustainable projects, improve workplace happiness and well-being, and achieve zero waste to landfill. Compared to last year Summertown reduced its own office energy intensity per employee by 13%, its office water consumption by 36% and the volume of its office waste being sent to landfill by 13%, while achieving a 35% decrease in total Greenhouse Gas (GHG) emissions per person in the last 5 years.

This year, the company's commitment to sustainability was recognised externally – with Summertown being the first SME in Dubai to be awarded The Dubai Chamber of Commerce Advanced CSR Label. Furthermore, they received the inaugural 2019 Netherlands Business Council Dubai Sustainable Business Innovation Award.

In addition to improving its own environmental performance, Summertown supports its clients on their sustainability journeys. This year, across Summertown's client projects, it diverted 37.7 tonnes of materials from landfill through reuse or recycling. Also, in line with the UN SDG 12, Summertown makes it a priority to ensure that the materials they procure for their projects and their own operations are responsibly procured and meet sustainability requirements. Earlier this year, the company set a new 'JOURNEY 2030' sustainability goal to "DELIVER 100% SUSTAINABLE PROJECTS" by 2030. According to the report, this year, 40.8% of materials purchased for client projects were from sustainable sources exceeding last year's 36.4%.

Health and safety is a high priority for Summertown - their approach is based on UAE Labour regulations and international best practices, and this year they achieved ISO 45001:2018 accreditation. The certification is the world's first international standard for occupational health and safety and provides a framework to increase safety, reduce workplace risks and enhance health and well-being at work. During the 2018-19 period, Summertown's Health & Safety record was positive with zero serious or major injuries.

Marcos Bish, Managing Director of Summertown Interiors said: "At Summertown, our vision is to create new commercial interior spaces in an environmentally friendly and sustainable way. We are proud of the progress we have made on our sustainability journey over the last 10 years and delighted to be able to demonstrate the tangible economic, social and environmental benefits a sustainable workplace delivers through our own experience.

"By creating more sustainable workplaces we, in turn, contribute to a bigger picture through global and regional sustainability ambitions, including the United Nation's SDGs and the UAE Vision 2021, Energy Strategy 2050, Area 2071, Green Agenda 2030 and Happiness Charter."

Continuing their commitment to giving back to the local community under SDG 11, this year, 63% of Summertown employees participated in at least one volunteering activity, spending 273 total hours volunteering.

The 2018-19 Sustainability Report can be downloaded from Summertown's new website.
@SummertownUAE #SummertownUAE #Sustainability