Superpipe - the new generation of pipes
It's not copper - It's better!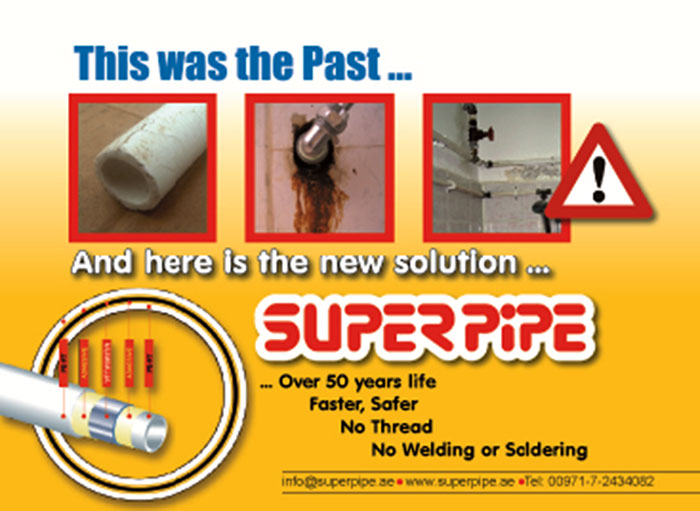 Composition:

Outer and inner layer: PE-RT (Polyethylene – raised temperature)
Intermediate layer: Overlap welded Aluminum, bonded by 2 layers of extruded adhesive
Main benefits:
Over 50 years life at 95°C permanent temperature and 10 bar pressure
No glue, no welding , no elbows or couplers, no thread cutting
Bendable by hand at small radius, without spring back
Easy installation with only few simple tools
Almost zero waste due to continuous coil of up to 200 meters
Extremely smooth, no scale build up
Low friction, with high flow rates
Inert to corrosion, light weight
Excellent temperature retention, saving energy
Oxygen and gas tight, ideal for medical use and food industries
Suitable for hot and cold water, gases, compressed air, chilled water
Very small liner expansion compared with PVC, PB, PPR and PEX, no need for outer conduit
The pipe can be installed directly in the concrete or render
Rigid tin plated brass fittings, with screw or press connection
The only plastic pipe that can be traced inside the wall with a cheap metal detector
SUPERPIPE
is a sustainable product with low life cycle cost.
SUPERPIPE
is a "fit and forget "solution for any plumbing installation, it should be the "system of choice "for any new project.
SUPERPIPE
's life span is compatible with building life, is maintenance free, avoids costly repairs, and pleases landlords and tenants alike.
Categories:
22 10 00 - Plumbing Piping