Swimming Pools Need to Be Tested Regularly for Water Quality
With temperatures falling across the UAE, outdoor swimming pools are becoming busier, and according to Senior Director TFM at Dubai-based smart and green home maintenance specialist Hitches & Glitches (H&G) Kelvin Vargheese, now is an ideal time to review pool maintenance procedures.

Regular pool cleaning is vital. Pool water often contains different biological matter such as body sweat, oil, cream, hair as well as leaves, sand and dust. Obviously, that affects the water quality. Also, without proper cleaning and water circulation, algae can form around the edges of a pool, turning the water green, possessing a high concentration of legionella bacteria.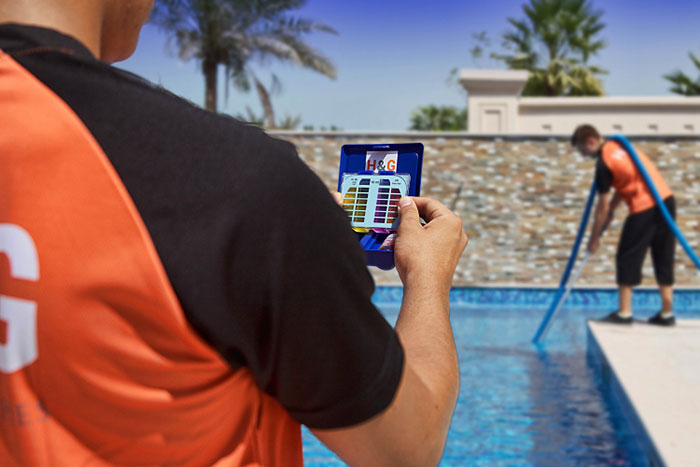 "Ensuring children and adults have an enjoyable experience is fundamental, however it is not just about employing a cleaner to ensure the pool and the poolside areas look appealing. There are other very important elements too, such as water quality, temperature, functionality, the environment and cost-efficiency," said Vargheese.

Chlorine and pH levels should be tested every week, in addition to the water temperature. Each fortnight alkaline levels should also be checked along with calcium hardness and cyanuric acid. At least every two months a microbiological water testing service should be carried out.

"The exposure of delicate mucous membranes, the movement of harmful organisms into ear and nasal passages, the excessive use of water-treatment chemicals, and the presence of harmful agents in water can contribute to eye, ear, nose, throat, and skin infections," added Vargheese.

Separately, the water pump, the main filter and the chiller and heater (if fitted), need to be checked and serviced regularly by a qualified technician, not just a pool cleaner. The pump and chiller/heater need to operate at optimum levels, to ensure that the electricity used is minimal and that the impact on the environment is reduced by cutting its carbon emissions, not to mention the utility bills.

"A poorly maintained pool pump and chiller/heater unit can lose 5% of its overall efficiency, annually," added Vargheese.

Regular servicing by a qualified technician will also extend the lifecycle of the pump and the chiller/heater and a technician would quickly identify any leaks in the pool plumbing, again saving considerable amounts of water.

After a series of impressive contract wins recently, H&G, which is part of the Farnek Group, now maintains more than 170 swimming pools in Dubai and Abu Dhabi alone, including Swisshotel, Emirates Hotel, Nakheel Villas and numerous private villa pools in the freehold communities of 'new Dubai' including The Palm Jumeirah, Arabian Ranches, The Greens, The Springs, The Meadows, The Lakes and the Green Community.

@HnGSocial #HitchesGlitches
Website:
https://www.hitchesglitches.com/