Tabanlioglu Demonstrates Architectural Excellence at the AR MIPIM Awards 2016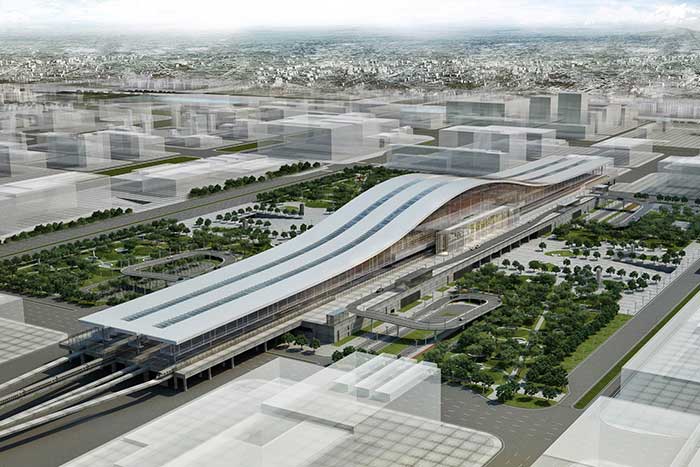 Multi-Award winning Turkish Architectural firm, Tabanlioglu, has won the prestigious Architectural Review (AR) Award 'Big Urban Projects' for their impressive train station in Astana, Kazakhstan. AR MIPIM Future Projects Awards is the only competition exclusively celebrating un-built and forthcoming projects, which attracts over 21,000 delegates, including influential key players from all international property sectors from across the world to Cannes. The AR MIPIM Future Projects Awards was held on 16th March during the largest gathering of architects at MIPIM at the JW Marriott in Cannes.

The Architect duo, Melkan Gursel and Murat Tabanlioglu were also honoured with another victory on the night, with their Doha, Qatar Mix-Use Tower being selected as "commended" under the Mixed Use category. It will be situated along the Corniche, Doha's emerging business district and waterfront promenade. The design concept is for the structure to appear massive and protected, but never introverted. The construction rises on a circular plan, and looks like a cogwheel with vertical screening slabs. Articulated with perforations, the concrete portions allow diffused light to fill spaces of the interiors, creating a shady, tranquil and almost a spiritual environment.

Distinguished for their innate skill of harmonising people and places when designing structures, the Astana Train Station was built upon a similar philosophy that articulates urban space whilst promoting positive change, as transportation becomes a key investment for this region. Located on the traditional ceremonial route from the Presidential Palace, the Astana train station has a unique architectural design with a monolithic roof which forms an integral part of the structure. The new station will not only be only a picturesque piece of modern architecture, but also a kind of transport and pedestrian bridge between two parts of the city. The building will be a sample of the newest "green" technologies application.

"Being honoured by yet another global award body gives Tabanlioglu immense pride and encouragement to continue our work and achieve recognition on an international platform. It is always inspiring to have your work acknowledged amongst the variety of remarkable buildings from around the world", states partner and architect Melkan Gursel, who was also part of the 'Cities of Past and Future' conference where she explored subjects, a lively, thought-provoking and relevant topic to international architects today.

Tabanlioglu architects are known for their modern style and exceptional quality projects. Their work comprises a wide range of building types from houses to offices, public and cultural buildings. Tabanlioglu has more than 60 years' experience in architecture starting with Dr. Hayati Tabanlioglu who designed the Ataturk Culture Center, Istanbul Atatürk Airport, Ataköy Tourism Center and the Galleria, the first shopping mall in Turkey.