TAKT - Sensitive Marble
3 business friends, united by their passion and love for a noble material of marble and experience in the world of residential design.

Thus TAKT came alive, a young reality dotted with fresh and unconventional traits, starting off with the name: a short Greek-assonanced word, pronounceable in all languages.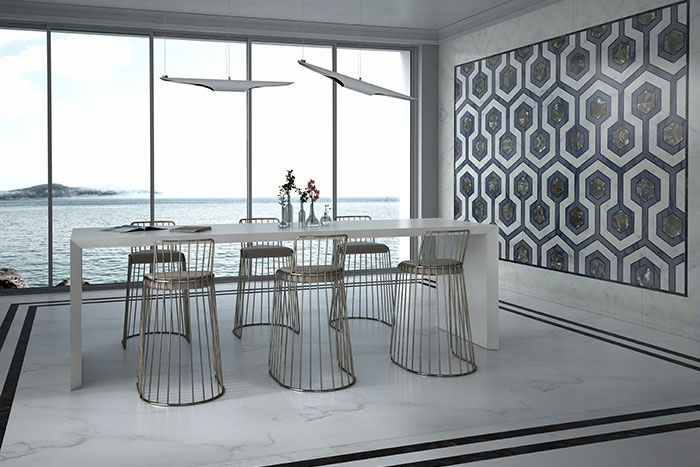 A company offering unique expertise approaching the market in a highly innovative fashion. Drawing on a solid local expertise, but with a strong international flavor, TAKT aims at introducing itself as a unique partner for end-customers, contractors, interior designers and architects alike, accompanying them through each and every phase of prestigious projects, either in residential and Contract.

From the choice to procurement of raw materials; from design to implementation and installation, extreme professionalism and transparency are Takt's modus operandi strong points.

Working hand-in-glove with the major players of the stone industry, TAKT can be the right consultant on both material selection and surface design in private residences or boutique hotels.

But that's not all. TAKT also covers the next phase, providing 2D layouts on floors and walls, under different styles: modern, contemporary, as well as deco and the classic.

Selection and procurement is not only about marbles, but onyx, granites, limestones, travertines, slates, gemstones, according to chromatic, physical and geological criteria, always keeping the set price range in mind. Our goal is to provide integrated services and unique solutions, more and more tailor-made and responsive, able to perform without difficulty different and very peculiar requests.

Depending on customers' needs and liking, in fact, raw materials are increasingly enhanced in a bid to make refined contexts - in which Takt usually work - even more prestigious. In particular, architects are provided with shop drawings to be approved, moving then on to the production of cutting lists.

As regards the production stage itself, delicate processes such as the transformation and processing of raw materials are exclusively handled by mastery and expertise of skilled local craftsmen.

This tailor-made approach allows to appoint each type of work to the most qualified companies, hence, making installation and polishing according to the highest possible quality standards, anywhere in the world. In addition, a dry laying can be requested, the only way to properly inspect the artifacts before shipment.

Harmony, cooperation, excellence: these are Takt's benchmarks. The company has already been selected as a trusted partner in the world and there are many prestigious projects, besides domestic Italian market, in the USA, Mexico and the Caribbean which can be accounted for. Unique synergies making TAKT an important ambassador of the "Made in Italy" worldwide.

Thrilling projects conjured by a combination of craftmanship and cutting-edge technology turn every job into an unique masterpiece.

But TAKT horizons do not end here. The top-notch partnership with Lu Murano - and master Fornasier - and the Florentine company Baldi - specialized in luxury furniture with semi-precious stones - expands the corporate objective into the furniture industry with an ambitious goal: attending, with our own line designed by young Italian and foreign designers - the next Salone del Mobile show in Milan.