Ten Essential Water-Saving Tips from Hansgrohe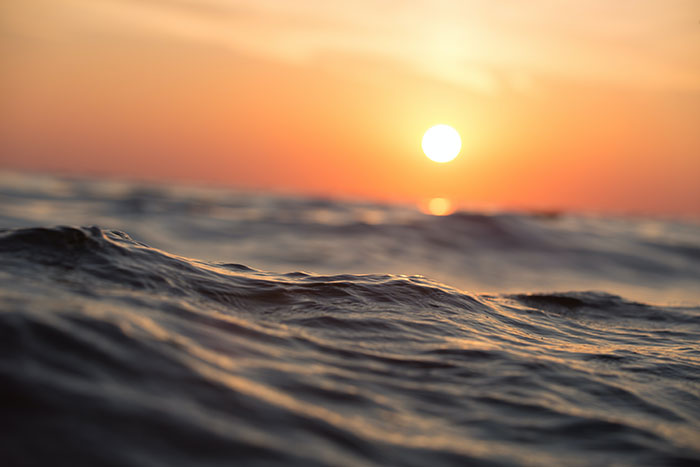 Summer is now in full swing and it's getting crazily hot out there. Recent reports say temperatures in the region are set to reach up to 47 degrees Celsius! Humidity is rocketing too, reaching levels of up to 90 percent in some coastal areas.

All this means we'll be washing and showering much more to keep cool and fresh. To protect the environment from water waste and keep those bills down, here are ten fantastic water-saving tips from leading German bathroom manufacturer hansgrohe.

Tip 1: Install modern shower products
If you're wasting water through shower use, it could be the shower system itself that's the main culprit – time to get better technology. For example, with an EcoSmart shower from hansgrohe you can save up to 60% water compared with a conventional shower head. The inner workings of the shower make all the difference: the EcoSmart technology limits the water flow automatically to around 6 to 9 litres per minute. Since this means that less water needs to be heated, EcoSmart helps you save energy too. The most environmentally friendly shower available at hansgrohe is the Crometta 85 Green hand shower. This consumes barely 6 litres of water per minute (at 3 bar). As it happens, an EcoSmart shower with multiple jet types will thoroughly pamper you, despite the lower flow rate.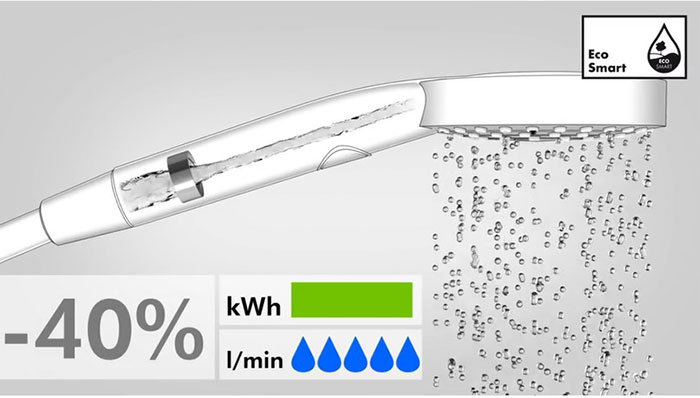 Tip 2: Use air to add effervescence and aeration to the water
If you believe less shower water also means less showering comfort, you're in for an exhilarating surprise with hansgrohe AirPower. The technology is as simple as it is ingenious: Less water plus more air equals the ultimate showering experience. To achieve this, plenty of air is added to the water in the shower head. This makes the droplets plumper, lighter and softer. Enjoy feeling the luscious pearls of AirPower water all over your skin when showering. With an AirPower shower, there's hardly any splashing. Your shower jet offers you more, using less water, and makes effective use of the effervescent power of the air. All hansgrohe showers with this function therefore offer you a beautifully intense, environmentally friendly shower.
Tip 3: Make smart hot water savings
A basin tap with hansgrohe CoolStart technology automatically reduces your energy consumption day in, day out. After all, with these taps hot water only flows when you really need it. How does that work? When the single lever mixer handle is set to the middle position, only cold water can flow. Hot water will only be sent through the pipelines when you deliberately turn the lever. CoolStart marks an environmentally friendly trend in the world of bathrooms and saves you money at the same time.
Tip 4: Use intelligent taps
All hansgrohe taps are fitted with EcoSmart technology as standard. Which means that they consume up to 60% less water than conventional taps. A precision elastomer reacts automatically to changes in the water pressure and changes its shape, ensuring that the water flow is constantly limited to only around 5 litres per minute. hansgrohe taps can therefore help you save a lot of water without you having to do anything. Also, for every litre that does not need to be heated, there are no energy costs.
Tip 5: Install a single lever mixer instead of a two handle mixer
While you wait turning the two handles for the water to reach the right temperature and the right volume a lot of it flows unused down the sink hole. Aside from the fact that modern single lever taps add considerably more convenience to your home, the required water volume and temperature can be set much more quickly on these than on two-handle taps. Save time and enjoy added convenience with single lever taps. And soon you'll save more money too.
Tip 6: Turn water off at the touch of a button
The classic operating lever on the wash basin and sink disappears completely with hansgrohe Select technology. On these lever-less taps, the water can be conveniently turned on and off at the touch of a button. This encourages you to save water on a daily basis – and makes the products fun to use. Not only are wash basin and sink unit taps with the Select function economical, they are also minimalist in design. They make your wash basin and your sink look beautifully ultra-modern.
Tip 7: Repair or renew dripping taps
Is your tap constantly dripping? This is more expensive than you might think over the long term. Get dripping mixers sealed as soon as possible. Sometimes simply replacing a seal is enough. On the other hand, if your tap is already in a state of decay it should be retired once and for all. Do replace the old fitting with a modern tap with a water-saving function.
Tip 8: When making a new purchase take note of its energy efficiency and water consumption
The same applies to taps as it does to shower heads, washing machines or dishwashers: Very old models usually consume significantly more water than new ones, and really need to be taken to the recycling centre. When purchasing a new product pay attention to its energy efficiency class. Which appliances save large quantities of water and energy? Make sure that you opt for environmentally friendly models in classes A to A+++. Talking of efficiency: never run washing machines and dishwashers half empty. Only use the machine when it is fully loaded. Often the pre-rinse or pre-wash program is not necessary. For slightly soiled laundry/dishes lots of machines have an environmentally friendly short wash cycle.
Tip 9: Turn off the tap when brushing teeth
If you leave the water running while brushing your teeth or shaving, you are wasting 5 to 15 litres of water per minute depending on the tap. Turn it off in between! When cleaning your teeth you can use a toothbrush tumbler. And for wet shaving just a little water in the basin is enough. For the toilet it's worth installing a flush/stop button or a dual flush system. Small flushes don't usually require more than 3 litres of water. Your water supply company bill will tell you how much that amounts to in your local area.
Tip 10: Be sparing with water in the garden
Lawns may need watering regularly in the Middle East, but that doesn't mean you can't be conscientious about water use. Use water sparingly and only water plants and flowers at dusk, that way less water evaporates unused on the beds and in pots.
@Hansgrohe_PR #Hansgrohe #WaterSaving