The Big 5 Saudi Opens: International construction products on display and in action
The Big 5 Saudi, the largest construction event in Jeddah, was opened yesterday by the Mayor of the Jeddah Municipality, Hani Abu Ras. On a tour of the event Mayor Hani Abu Ras noted the large number of regional and international companies exhibiting.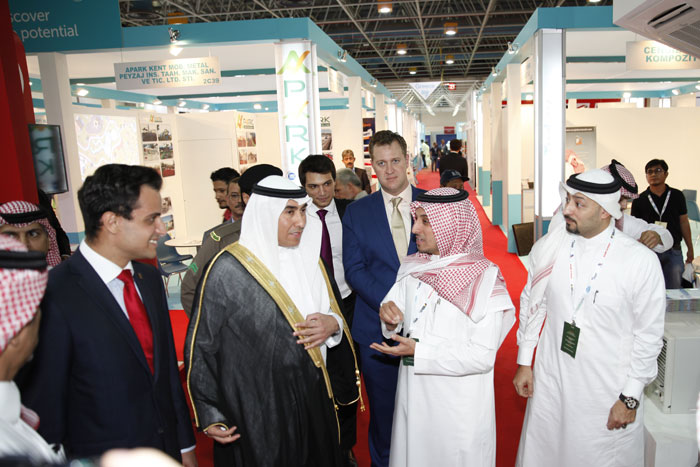 "The Big 5 Saudi is one of the largest exhibitions that we make sure we attend. The construction, building material and finishing industry in Saudi Arabia is booming and this exhibition is proof of that. We are proud to exhibit our company here, and we are confident we will benefit positively from our participation", said Fahad Al Hossaini from Al Omran Group.

"Some of these technologies are being seen in Saudi Arabia for the first time," said Nathan Waugh, Portfolio Director at DMG Events, organiser of The Big 5 Saudi. "This is a great opportunity for visitors to see what new construction products and technologies are available that could give them a vital competitive edge in their next project."

A key feature of this year's event is the collection of certified educational workshops available for visitors to attend, all for free. Access to the seminars and workshops is free, but spaces are limited so it is essential for visitors to get there early. The introduction of Saudi FIDIC will be among the many hot topics on the educational agenda as the regulatory environment in Saudi Arabia evolves.

"Saudi FIDIC will be well received by international players in the market or seeking to enter the market," said Andrew Jones, partner and head of construction – Middle East at law firm Dentons and speaker of The Big 5 Saudi construction exhibition. "Historically, there has been a concern that in order to work on state-sponsored projects, in particular, contractors will need to sign up to unfavourable terms. Adopting a localised version of the FIDIC contracts will encourage parties to review and negotiate the terms and hopefully provide contractors with more comfort regarding their contractual rights and their risk profile."

Other features integral to The Big 5 Saudi include a dedicated Concrete Zone and an outdoor PMV Zone where visitors can learn about the latest in concrete technologies, get hands on with plant and machinery and see live demonstrations that will include earthmoving equipment, lifting equipment and tower cranes.