The Free BricsCAD Shape for MacOS is here
We are happy to announce the availability of BricsCADⓇ Shape for macOS. The best solid-based schematic modeler is here for your Mac, and it's free. Download it here.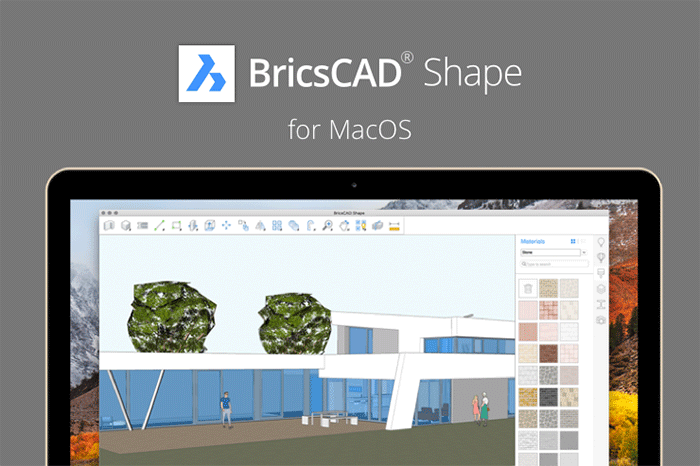 What is BricsCAD Shape?
BricsCAD Shape is our conceptual modeler for architects, designers and engineers. It speeds and streamlines 3D schematic design capture, using CAD-accurate solids.
It has a clean, simple user interface that you'll learn in minutes
It comes with smart parametric doors and windows, materials and more
It's a great presentation tool, too
BricsCAD Shape is free of charge to everyone, with no commercial usage restrictions.
Why BricsCAD Shape for macOS?
BricsCAD Shape is the start of the Bricsys path to Building Information Modeling (BIM). BricsCAD Shape for macOS brings the power of solid-based schematic design to architecture's favorite computer.

Shape uses solids to create real 3D models. It is fully CAD-accurate, and it gives you the freedom to design, then change deeply, radically, repeatedly – over and over. BricsCAD Shape lets you create freely, without limits.

Underneath the simple user interface of Shape is the fast, proven, parametric 3D direct modeling engine that is found in BricsCAD. BricsCAD Shape stores your designs in industry-standard DWG files – just like BricsCAD and BricsCADⓇ BIM.
What does this mean to me?
You now have a fast, elegant conceptual design tool that is 100% inside your BIM workflow. There is never a need to start your BIM from scratch after concept design approval. Simply open your Shape model in BricsCAD BIM, and in minutes you'll be weeks ahead of your competition.
Direct to BIM with BricsCAD Shape
The BricsCAD BIM workflow starts in Real 3D with BricsCAD Shape. It stays in 3D throughout the process, with your data stored in industry-standard 2018 DWG. Add intelligence to your BIM, then speed the creation of 2D construction documentation with the world's best drafting tools.

There are no breaks or rework in the BricsCAD BIM workflow. Never start over from scratch after design approval. Your concept design becomes your BIM. It's that simple.

Get to BIM faster, start in Real 3D – download BricsCAD Shape today. It's available for macOS and Windows – Linux version coming soon!