The Geberit bathroom series Smyle now has a new look
The redesigned Geberit bathroom series Smyle has an even more delicate and modern look. The design of the washbasins and furniture is coordinated in such a way that individual combinations are possible. The medium cabinets can be combined in different ways depending on the customer's requirements. Thanks to the option of open or closed storage space, these cabinets offer a great deal of creative freedom in line with the customer's personal preference and bathroom size.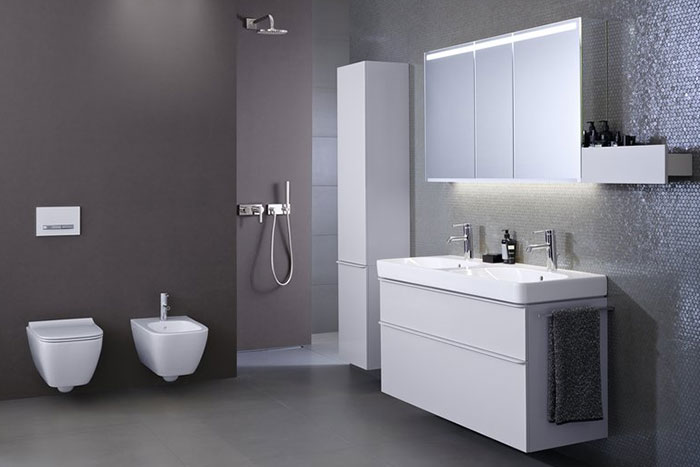 Fresh shapes – The Geberit Smyle bathroom series features high-quality materials, coated surfaces and modular elements. These have all helped Geberit create new highlights in the bathroom.
Geberit has radically revamped the Smyle bathroom series. The most striking change is the new design of the furniture, which was adapted to the form of the ceramic sanitary appliances as part of the facelift. The handles now mirror the contour of the washbasins in terms of their ornate lines and continue their design language.

This manifests itself in the rounded edges on the simple yet modernly designed profile handles, which have the same colour as the furniture. The ceramic sanitary appliances from the Geberit Smyle bathroom series have a very lightweight appearance. Ornate lines, harmonious shapes and narrow rims on the washbasins contrast with the functional inner basins and the generous shelf surfaces at the rear of the washbasin.

"The slightly rounded edges on the handles – which represent a seamless transition from the washbasin to the cabinet – are new," says Gabriel Nassar from Geberit. "The handles form a unified whole with the narrow rims on the ceramic sanitary appliances. Creative freedom was particularly important to us, and we achieved this by offering diverse combination possibilities."

Individuality

Designers can mix and match the furniture according to the customer's wishes. For example, the medium cabinets can be combined in different ways and offer a great deal of creative freedom thanks to the option of open or closed storage space. Using the open or closed medium cabinets and low cabinets results in individual bathroom designs.
The medium cabinet also impresses thanks to its glass shelves and the mirror on the inside of the door. The classy glass tops – which also protect the furniture against scratches – are the same colour as the furniture, or lava in the case of wood finishes.

New toilet

The new wall-hung WC is the epitome of modern bathroom design. Thanks to its square design language, it combines perfectly with the square washbasins, while its shrouded outer shape makes it even easier to clean. Geberit offers the WC seats in a slim design, either in a sandwich shape or as an overlapping seat. To ensure exceptional hygiene, the seats can be easily removed for cleaning via the QuickRelease hinges.

The bathroom series will be available from April 2019.

@GeberitGroup #GeberitGroup