The Hospitality Industry's Vision of The Future
Celebrating its 15th anniversary, The Hotel Show Dubai was officially opened today by H.H. Sheik Ahmed bin Saeed Al Maktoum, President of Dubai Civil Aviation Authority, Chairman of Dubai Airports, Chairman and CEO of Emirates Airline. With the focus on every aspect of the future exponential growth of the region, as well as the challenges and opportunities it brings, the event including The Leisure Show and Vision Conference is expecting some 16,700 international industry professionals over 3 days.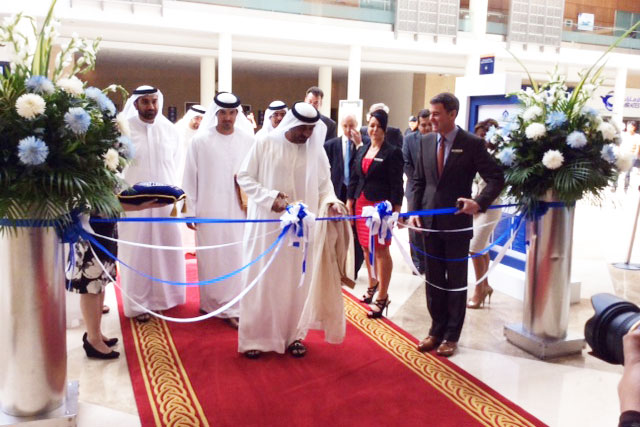 This year's keynote address for The Vision conference saw Issam AbdulRahim Kazim, CEO Dubai Corporation for Tourism and Commerce Marketing speak of Dubai's determination to "constantly break new ground and reach new heights". "With only 70 hotels in 1990, Dubai now attracts every type of hotelier, brand and chain and today the city has 634 establishments boasting 88,680 keys, an average of more than 17 hotel openings every 12 months". He said.

Looking to the future he said that "between 15,000 and 25,000 more rooms are in the pipeline by the end of 2016 and by 2020 we are targeting approximately 160,000 rooms." Kazim also spoke of the new leisure attractions coming which include Wire World, Legoland, the expansion of Madinat Jumeirah, plus mega-projects including Bluewaters Island and Mall of the World.

Kazim was speaking ahead of the first sessions of the Vision Conference which this year features some 86 international speakers over the three days at the Dubai World Trade Centre. Today's sessions included panel debates on Trends in hospitality and leisure, future trends in interior design for hospitality, F&B and leisure, and the development and growth of mid-range hotels. It was this topic that Kazim also spoke of in his keynote address saying that 4 and 3 star properties are now "on the rise". Through Government incentives to encourage growth in the mid-market segment, the aim is to achieve a greater balance through diversification to bring Dubai's hotel industry closer in line with other major world cities.

"The Hotel Show and its Vision Conference play an important role in contributing to shape and drive Dubai's hospitality sector and in turn our tourism industry, a key pillar of the economy. The event provides a platform for hoteliers and industry figures to come together, share ideas and agree on strategies moving forward. The continuing growth of The Hotel Show demonstrates the investment opportunities within hospitality in Dubai", added Issam AbdulRahim Kazim.

Other highlights of the show this week will include appearances by 3 international football legends to promote exhibitor's Teqball, a new sport equipment and football game. Fabio Cannavaro, a former Italian footballer and now a coach, Michel Salgado, former Spanish football legend and Argentine's Diego Maradona will be playing the game for the first time.

A new international showcase of country specific exhibitors highlights how important The Hotel Show is as a platform for future business, with China, Hong Kong, Taiwan, Belgium, France, Portugal, Germany, Austria, Greece, India, Italy, Pakistan, Philippines, Netherlands, Spain, Turkey, UK and the USA represented.

Highlighting what the future of the industry looks like, this year a special feature area is devoted to hotel architecture, sustainable development, next-generation technologies, new frontiers with self-powered energy buildings and materials, and gives a glimpse of what hospitality could look like in the future. At the same time Monday's Vision Conference will have a panel debate about "Sustainable hotel – is it possible?" followed on Tuesday by "Architecture, build and landscaping for the future" helping the industry to get a better view of the experts believe the trends will be.

"With Dubai at the heart of this region's hospitality development, The Hotel Show and The Leisure Show are now established as not just an exhibition but an annual meeting place that brings together the buyers, architects and suppliers for business, networking and education. Not only are we welcoming buyers this week from 98 countries, but we also have experts and thought leaders from around the world participating in The Vision Conference making the event an unrivalled business and education opportunity for the whole hospitality sector" said Christine Davidson, The Hotel Show's Exhibition Director.