The Middle East's largest interior design event launches its first edition in Qatar
For the first time in its 28-year history, INDEX – the Middle East's largest interior design event – has launched in Qatar.

Chairman of Qatar Chamber of Commerce and Industry His Excellency Sheikh Khalifa Bin Jassim Bin Mohammed Al Thani and Hassan Al Ibrahim, Chief Tourism Development Officer of Qatar Tourism Authority (QTA), officially opened the inaugural exhibition at the Doha Exhibition & Convention Center this morning.

They were joined by Omani Ambassador to Qatar Najeeb bin Yahya Al Balushi, and the Italian Ambassador to Qatar, Pasquale Salzano, who took great joy in exploring the exhibition following its opening.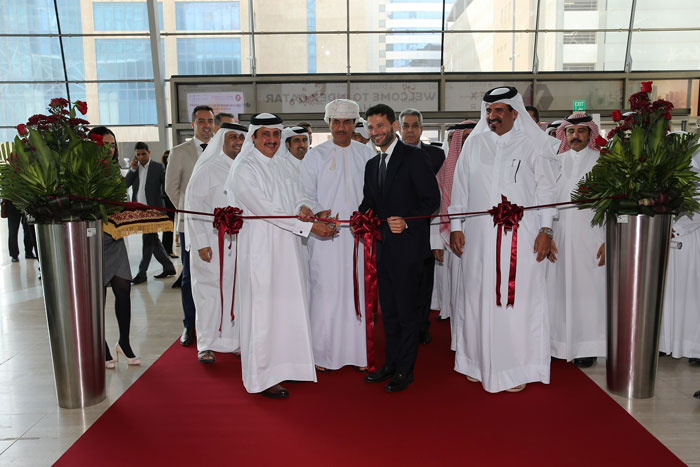 The renowned INDEX brand – which has grown to host exhibitions across the Middle East, Asia and Africa in recent years – is expected to draw more than 3,000 designers to the capital for three-days of networking, buying and industry focused seminars that will supply professionals from the commercial, residential and hospitality sectors.

It is supported by Qatar Tourism Authority (QTA) and the Qatar Chamber of Commerce and Industry, with speakers at its Design Talks discussion series including designers, architects, CEOs and directors from some of the region's biggest firms.

Jaafar Shubber, INDEX Qatar event director, said: "According to our exclusive research with market analysts Ventures, the fit-out and contractor market for interior designers across Qatar will be worth almost US$1.5bn in the next year. That is a massive amount, at what is a time of huge growth for the country. We are thrilled to arrive here at a period of such excitement and expansion as Qatar prepares to host the 2022 FIFA World Cup.

"We will be showcasing products from more than 50 local and international manufacturers and suppliers, all of whom will be bringing the latest furniture and décor products needed to help fit-out the hundreds of ongoing and future projects across Qatar and the wider region. Our all-encompassing design event will also include daily seminars featuring many of the region's most influential and creative design minds, as well as a host of interactive features across the exhibition floor."

Ahmed Al Obaidli, Director of Exhibitions at QTA, commented: "We are delighted to welcome exhibitors and speakers to this edition of INDEX, the first to take place in Qatar. Hosting and attracting global business events is a key part of our efforts to develop the business events sector, which is considered a priority in the Qatar National Tourism Sector Strategy. We look forward to seeing more world-class events delivered in this growing industry."

A study by market analysts Ventures – the details of which are released today – discovered that the value of interior-based design and fit-out spend across the GCC-region will reach almost US$17billion in the next 12 months.

In Qatar alone, the money invested in interior projects within each of the main construction sectors – commercial, residential, retail, hospitality, medical and educational– will be close to US$1.5billion.

Some of the top firms appearing at this week's INDEX Qatar include La Sorogeeka, Jotun, Mezzaluna, Seasons Accessories Inc, Cristal de Paris and Stil Décor.

The Design Talks series will feature design experts including Shahd ElMahdi, Interior Design Manager at ASTAD Project Management; Peter Cook, Managing Director of the British Chamber of Commerce in Qatar; and Esra Al-Kazem Design Director, AEA Designs.

They will be joined on the panel by leading voices from the likes of Atelier Ten, the Arab Engineering Bureau, LACASA Architects & Engineers and Sabban Interiors, with more than 15 talks scheduled across the duration of the event.

The event is anticipated to attract thousands of interior designers, architects, project managers, importers and distributers from the full spectrum of retail, hospitality, residential and commercial design across its three days.

Find out more and register to attend at: www.index-qatar.com