The QO Hotel Installs Boon Edam Revolving Door to Achieve LEED Platinum Certification
oon Edam Inc., a global leader in security entrances and architectural revolving doors, today announced that the QO Amsterdam Hotel, a four-star resort on the famous Amstel River, has installed a TQA automatic revolving door at its front entrance to save on energy and create a comfortable lobby, while still enabling the interior to receive exposure to the exterior sunlight.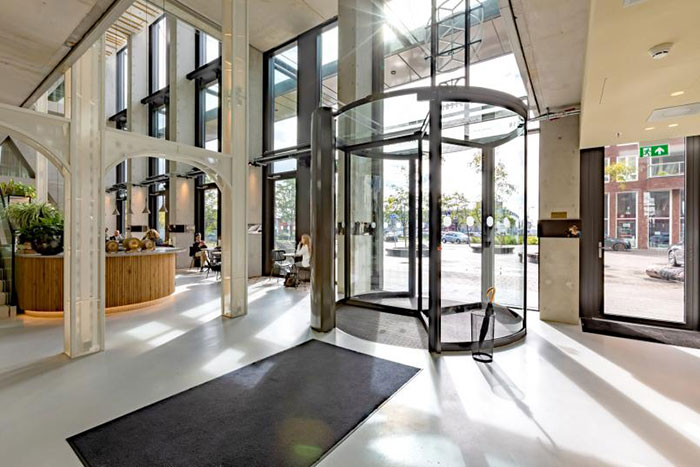 QO Amsterdam is a unique lifestyle hotel with 288 rooms that was designed by a triad team of architectural firms: Mulderblauw Architects, Paul de Ruiter Architects, and Arup. Their goal in designing the hotel was to create a space that catered to the 21st century hotel guest who demands luxury and comfort while leaving a minimal footprint on our planet. When the hotel was completed, it was one of the first hotels in Europe to be awarded the prestigious title of LEED Platinum Certified.
Revolving Door Supports Sustainable Hotel Design
In keeping with an energy-saving, upscale design of the hotel, the architects specified a Boon Edam TQA automatic revolving door at the main entrance. Operating in an "always open, yet always closed" mode, revolving doors are proven solutions that save energy and control interior climates while being easy for the public to use. As a result of installing the revolving door at the entry, the hotel was able to lower energy consumption for heating by 65% and cooling by 90%, significantly reducing their energy expenses.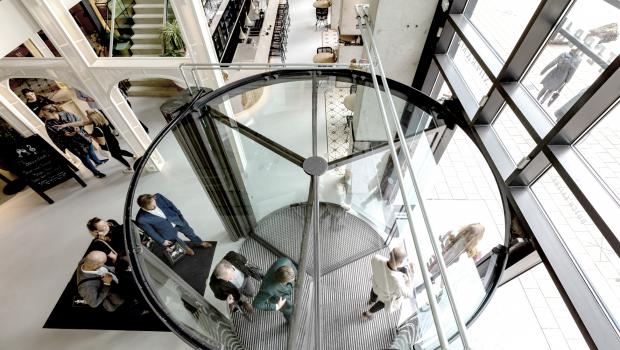 Door Design Fits into Hotel's Airy, Open Look & Feel
QO Amsterdam Hotel's facade consists of floor-to-ceiling high windows to ensure outstanding spatial quality and a breathtaking view. In keeping with that look and feel, the architects requested that the TQA revolving door be customized with a glass ceiling to enhance the feeling of openness and allow natural light to flow inside. All working parts and mechanisms of the door were installed in the floor to ensure they were completely out of sight for a seamless, finished look.
@RoyalBoonEdam #RoyalBoonEdam #Security #Turnstiles #RevolvingDoors
Categories: