The Sustainable City in Dubai partners with Emirates Wildlife Society - World Wildlife Fund
Diamond Developers, the company behind Dubai's Sustainable City, and Emirates Wildlife Society – WWF (EWS-WWF) today launched a partnership to tackle climate change and promote energy conservation & solar power.

In line with the partnership, Diamond Developers will support EWS-WWF's climate and energy programme for the next three years. EWS-WWF will relocate its Dubai offices to Sustainable City and support the Development's sustainability performance through monitoring, reporting and verifying its greenhouse gas emissions.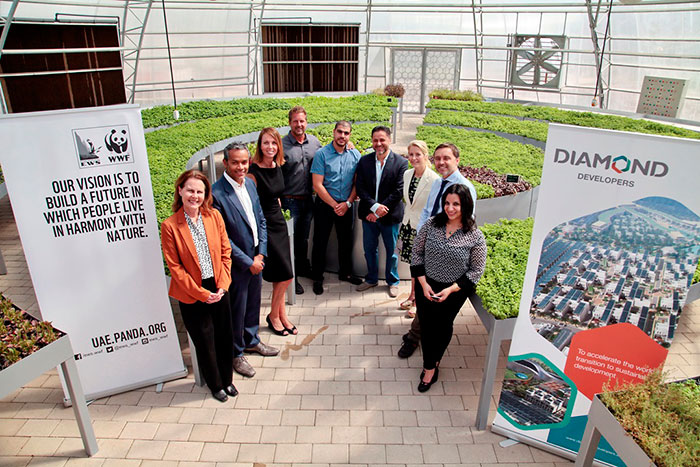 The partnership agreement was signed by Faris Saeed, Chief Executive Officer and Co-Founder of Diamond Developers, and Ida Tillisch, Director General of EWS-WWF at Sustainable City headquarters in Dubai.

"Aligned with the vision of Dubai to become a green city, with today's agreement, Sustainable City is entering a new era of sustainable innovations and studies in the region. Our partnership with EWS-WWF will help us lead the way by addressing both local and regional sustainability challenges. Our plan is to utilise our knowledge together to scale up sustainable communities and create new best practices." Said Faris Saeed.

""We are excited to enter into this partnership with the Sustainable City and be working closely with the brains behind this modern city and its residents" said Ida Tillisch. "Our partnership with the Sustainable City also seeks to illustrate how environmental strategies can align with business goals and reflects our vision to work with partners to address climate change and energy issues in the UAE"she added.

The vision of EWS-WWF's energy and climate programme is to see UAE taking significant steps towards low carbon development by increasing ambition and implementation of renewable energy, expanding energy efficiency, decreasing carbon emissions from road transport and addressing climate change risks. Cross-sector partnerships are key to achieve these goals by the year 2020.

The Sustainable City will celebrate Earth Day and the launch of the partnership by organising a family fun day for its residents on Earth Day, 22 April 2016.