The Sustainable City Ready to Welcome Residents in 2015
Diamond Developers announced today that its Five million square feet development 'The Sustainable City' (TSC) is on course to complete Phase 1 by Q3 2015. Phase 1 of the project comprises Five residential clusters of 100 villas each, a community mall, a central green spine, an Equestrian Centre, horse, bicycle, walking and jogging tracks, and all project infrastructural works. Phase 2 which comprises an eco-resort, a country club, a green school, a science museum and The Sustainability Centre of Excellence, is scheduled to be completed by the end of 2016.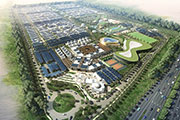 "In line with the vision of His Highness Sheikh Mohammad Bin Rashid Al Maktoum, Vice President, Prime Minister and Ruler of Dubai, Diamond Developers is thrilled to turn the vision of sustainable living in Dubai into a reality. The City was launched in 2014 with the support of Dubai Land Department, with a focus on sustainable living through a multitude of social, environmental and economic initiatives," said Mr. Faris Saeed, CEO, Diamond Developers.

"With a priority to reduce our carbon footprint and minimize negative environmental impacts, TSC addresses 7 key environmental elements: passive & active design strategies and eco-friendly construction building materials; renewable energy on-site production to meet most of the city's needs; 100 percent wastewater recycling to reuse for productive and non-productive landscapes; cooler and cleaner air for the city; urban farming to produce herbs, fruits and vegetables; waste -sorting at source and recycling programmes; solar powered transportation systems for internal and external use," added Mr. Wassim Adlouni, Executive Director, Diamond Developers.

"To enhance the quality of life for its residents, TSC encourages a strong sense of community through its design, amenities, and social activities; provides advanced healthcare facilities; and will be a knowledge hub for students, academics and professionals alike," said Ms. Alya Alhamad, Social Sustainability Manager, Diamond Developers.

"Contrary to general opinion, we have validated the fact that the cost of constructing sustainable developments is equivalent or even less than the cost of conventional developments. Furthermore, we have introduced a new concept for economic sustainability whereby a NetZero service and maintenance fee scheme are applied as a result of shared revenues from the community mall rentals" stated Mr. Emil Samarah, Chief Commercial Officer, Diamond Developers.