The versatility of extruded aluminium as a new trend in interior design
Versatile, prestigious and highly customizable. The creative lab of EnjoyALL, an interior design brand devising exclusive solutions through the use of extruded aluminium, are featured in the Nardi Elettrodomestici stand at EuroCucina 2016 at the 2016 Salone del Mobile in Milan.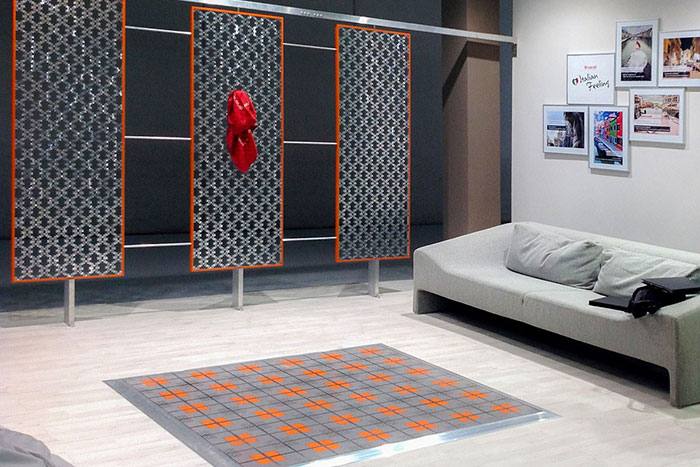 The EnjoyALL solutions for the Nardi Elettrodomestici stand confirm the tradition of research and development of aesthetic and functional trends of both brands. The solutions highlight the elegance of metal design through an EnjoyFLOOR flooring, the reception counter and some dividers.

The two horizontal surfaces merge extruded aluminium with orange and grey tinged resins, in harmony with the chromatic choices of the exposition area and with the colours of the Nardi Elettrodomestici brand. The see-through dividers only feature extruded aluminium, thus creating games of light between empty spaces and metallic reflection. The surfaces highlight the versatility of EnjoyALL solutions, which can be applied both on floorings, vertical surfaces or counters.

These surfaces blend style, prestige and functionality harmoniously, finding the ideal common ground between material innovation and the traditional Italian craft quality. A choice that echoes the themes of the 2016 EuroCucina, focused on the fusion between functionality and elegance. The Nardi Elettrodomestici stand (Pav. 11, stand C-23) is featured in the exclusive FTK – Technology For The Kitchen area, a recognition of excellence in the application of technology to the kitchen world.

The EnjoyALL solutions were conceived with the creative contributions of the design bloggers of the #weblogsaloni collective, a project aimed at narrating and sharing events and trends of the design and architecture sector. Their ideas came alive under the supervision of GianMario Pasturi (founder of EnjoyALL) and Graziano Nardi (CEO of Nardi Elettrodomestici) in the setting of the EnjoyLAB, the place where EnjoyALL creative ideas are conceived and developed.