The world's longest cantilever to be lifted into place on iconic One Za'abeel in early 2020
Leading Japanese architectural, engineering and urban design firm Nikken Sekkei has confirmed that the world's longest cantilever, The Link, which will connect the towers of the iconic One Za'abeel mixed-use development in Dubai, UAE, will be lifted into place in early 2020.

One Za'abeel, which will feature prominently on Nikken Sekkei's stand during the Cityscape Global event, taking place at the Dubai World Trade Centre from 25-27 September, is not without its challenges, as the cantilever weighs the same as the Eiffel Tower.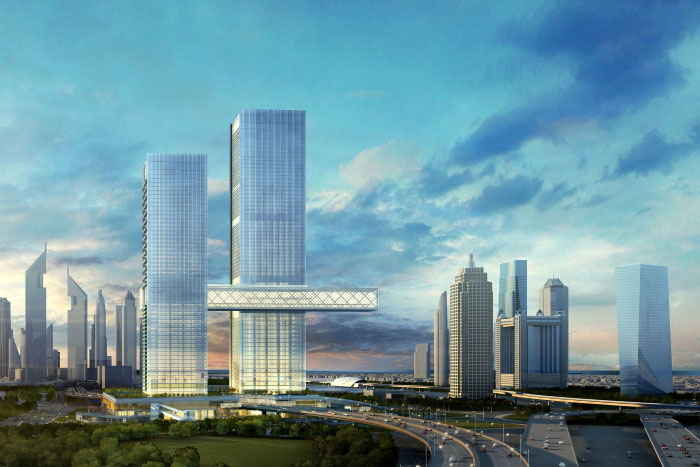 Dr Fadi Jabri, Nikken's Executive Officer, Principal responsible for MENA, CIS, India, Australia and Europe regions, said: "Designing the world's longest occupied building cantilever was an ambitious challenge in itself, however, designing an offset cantilever between two towers, 100 metres above a busy highway, was a challenge of ingenuity and imagination that we thrived on."

The Nikken design team were able to counter the effects of twist and vertical deflection by designing a diagrid, a framework of diagonally intersecting beams, creating column-free space to avoid negatively impacting the viewing credentials of a range of attractions including fine dining restaurants and lounges.

The structure will be built segment by segment, over an active bridge which will be closed to traffic during the construction phase. The structure will be pulled over gradually using a bridge launching system and lifted 100 metres into position.

"The lifting of the structure promises to be an incredible spectacle. Nowhere else in the world has something of this magnitude been done before and is indicative of Dubai's determination to be a market leader and a visionary when showcasing to the rest of the world what can be achieved,' added Dr Jabri.

One Za'abeel will become a new gateway and landmark in Dubai with the mixed-use development featuring a residential tower, ultra-luxury five-star hotel, commercial tower, and retail destination - The Gallery.

#OneZaabeel #NikkenSekkei