Thyssenkrupp Equips New Metro Stations in Egypt's Capital Cairo
Thyssenkrupp Elevator makes sure that passengers of the Cairo metro reach their destination fast and safe by providing the subway system with 69 escalators as well as servicing and maintaining 432 elevators and escalators. With its three lines, the metro of Cairo is one of two subway systems in the whole of Africa. In the course of its continuous expansion, new stations are constantly built – such as Haroun el Rashied Station, Alf Masken Station, and El Shams Club Station. In all of these new stations, over 40 state-of-the-art escalators by thyssenkrupp Elevator ensure smooth travels.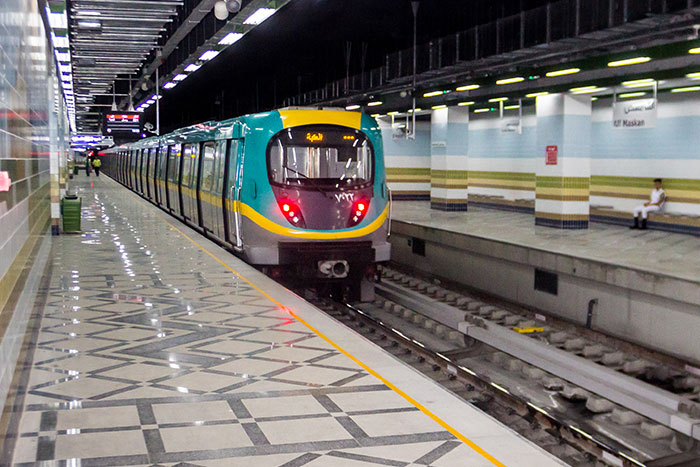 Moreover, Thyssenkrupp has installed 17 escalators at the newly built Heliopolis Square Station while a deal has just been closed for additional 12 escalator units for the new El Nozha Station. "Thyssenkrupp Elevator is really proud to be part of the Cairo metro's rapid development.

Especially in a metropolis like this, an efficient transport system and increased access is crucial for countless people but also many businesses. With our mobility solutions, we deliver and secure reliability, comfort, and maximum efficiency for the people of Cairo", says Peter Walker, CEO of Thyssenkrupp Elevator. "We put service at the heart of our business."

Thyssenkrupp Elevator has a very strong service organization, working closely with its customers. Almost half of Thyssenkrupp Elevator's employees, around 24,500 people, are service technicians, offering innovative, digitalized products and services across 150 countries. The Egyptian capital perfectly demonstrates the need for contemporary urban mobility in the continent's megacities. The metro of Cairo was opened in 1987. In 2009/2010, about 805 million passengers used it. Until 2020 the number will raise to approximately 2.2 billion per year. To cope with the demand for seamless inner-city transport, Cairo metro continuously expands.

Cairo metro and Thyssenkrupp Elevator share some history: Since 2004, the company has been servicing the subway as a subcontractor. All in all, 116 elevators and 316 escalators in 5 service buildings and 36 of the existing 64 stations are maintained on-site by Thyssenkrupp's qualified staff. The maintenance works usually take place between 1.00 and 5.00 a.m. when no trains are moving.

Cairo has worked hard to modernize its public transport systems through the past decades. Poor public transport always has a negative impact on citizens - not only mentally and socially, but also in terms of economic development. A future-oriented public transport allows a much needed, fast and efficient city mobility that improved the way people live and move. Mobility solutions by Thyssenkrupp Elevator pave the way to a prospering future – in Cairo as well as in Cincinnati or Stockholm.

Especially at places like the Egyptian capital with an exceptionally high population growth, it is critical not only to cope with the demands, but to realize a future-proof approach. The mobility solutions by Thyssenkrupp Elevator offer the required levels of reliability and technical sophistication that fast-growing urban centers urgently need.

Elsewhere in the Middle East region, Thyssenkrupp has recently supplied more than 1,200 elevators, escalators and moving walks to the upcoming metro stations in Riyadh and Doha. The company has also delivered more than 390 units including elevators, escalators, and moving walks to the Doha airport and is responsible for the operation and maintenance of 90 passenger boarding bridges there. It is also currently servicing almost 800 units for the Dubai metro.


@thyssenkrupp_en #thyssenkrupp_en #CairoMetro