Tourist boom propels Middle East above Europe in terms of planned hotel room openings
The Middle East's tourist boom shows no sign of slowing – as new figures reveal the region has overtaken Europe in regards to the number of new hotel rooms in the pipeline.

According to 'The Middle East Hotel Construction Overview' report by TOPHOTELPROJECTS – prepared ahead of this year's editions of The Hotel Show Saudi Arabia (10-12th April 2018) and The Hotel Show Dubai (16-18th September 2018) – the Middle East is set to add 238,963 new hotel rooms to its current supply, the majority of which will open in the next five years.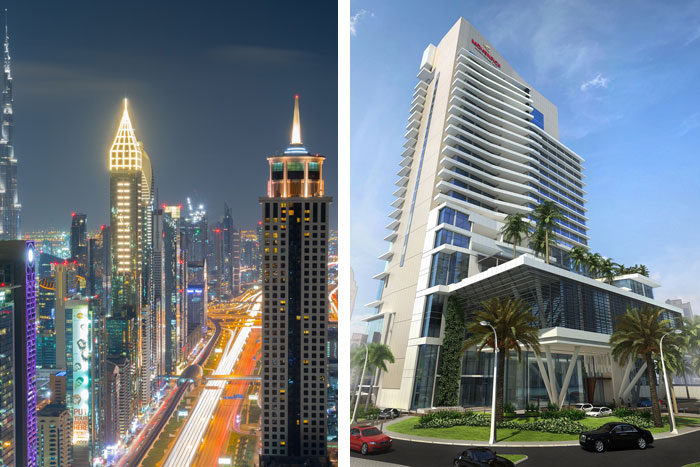 LEFT: Gevora Hotel, Dubai's Sheikh Zayed Road; RIGHT: Mövenpick Hotel Dubai Media City
There are 214,743 guest rooms set to open in Europe, putting the Middle East ahead of its neighboring region – despite Europe having more new hotel builds in the pipeline.

Ray Tinston, Portfolio Director of The Hotel Show events, said: "This new report reveals the extent to which the room to project ratio for Middle Eastern hospitality projects is considerably higher than average.

"Hospitality here is synonymous with luxury, opulence and pushing boundaries in terms of scale, magnitude and grandeur. As five star developments and mega resorts continue to dominate its construction pipeline, it's not surprising that this region has an extraordinary number of rooms in development, even higher than compared with regions with a larger amount of individual hotel projects."

The UAE (222 projects / 126,576 rooms) and Saudi Arabia (143 projects / 55,810 rooms) are the two most active countries for hospitality development in the Middle East.

An even clearer indicator of continued growth for the region is its having more hotel rooms on the way than South America and Africa combined.

"Dubai continues to lead the global hospitality industry in terms of innovation," said Tinston. "The world's tallest hotel has just opened here, and it is due to welcome the first hotel in the world with its own rainforest. Developers here continue to push boundaries – it's a very exciting market."

The region's strong placing is being attributed to substantial growth across its major countries. Saudi Arabia, for example, is in the midst of widespread change in line with the governments' Saudi Vision 2030 – with a focus on improving its position as a destination for tourism.

Mövenpick Hotels & Resorts currently operates 11 hotels across the Kingdom of Saudi Arabia and has five hotel projects under development in its major cities of Riyadh and Jeddah, Al Khobar – popular with leisure tourists with its coastal location – and industrial city Wa'ad Al Shamal.

Marc Descrozaille, President Middle East & Africa, Mövenpick Hotels & Resorts, said: "Saudi Arabia is not only home to the Gulf's largest population, with more than 33 million residents and a robust domestic tourism market, but has become the focal point for government and international investment, based on economic diversification plans designed to secure its long-term prosperity.

"We continue to seek more opportunities to expand our footprint in Saudi Arabia, given its long-term business, investment and tourism prospects. New cities, bigger airports, major leisure-focused tourism attractions and new visa rules are all part of the plan to put the Kingdom on the global tourism map. Saudi's big-picture plans for development will benefit the hospitality market and the economy at large."

The Hotel Show Saudi Arabia 2018 is set to return to the Jeddah Centre for Forums and Events next month (10-12th April 2018) for its sixth edition, with highlights including its highly anticipated 'Inter-Hotel Culinary Competition' endorsed by WORLDCHEFS, The Saudi Arabian Chefs Association and Culinary Partner, Unilever Food Solutions.

Hundreds of global brands will showcase the latest products and services designed for the hospitality industry from interiors to technology to thousands of hoteliers and restaurateurs in the Kingdom.

Meanwhile, the 19th edition of The Hotel Show Dubai will take place 16-18th September 2018 at the Dubai World Trade Centre. Its world-renowned live features including The Middle East Housekeepers League of Champions and The Middle East Hospitality Leadership Forum, are set to return in a big way for 2018.

Find out more about The Hotel Show Saudi Arabia 2018 and The Hotel Show Dubai 2018 at: www.thehotelshowsaudiarabia.com / www.thehotelshow.com.