TSSC continues to raise the bar on cold chain innovation with latest sustainable solutions
Technical Supplies & Services Company (TSSC), a leading manufacturer of advanced building materials and systems in the Middle East and a member of Harwal Group, announced that its latest innovative technologies for the cold chain industry continue to gain traction, serving the ever-growing demand for energy-efficient solutions in the region in line with the highest international and environmental standards.

TSSC stated that the company's solar technology for refrigerated trucks, eutectic plate systems and telematics technology are some of its latest innovation that are continuously enhancing the performance of cold chain systems.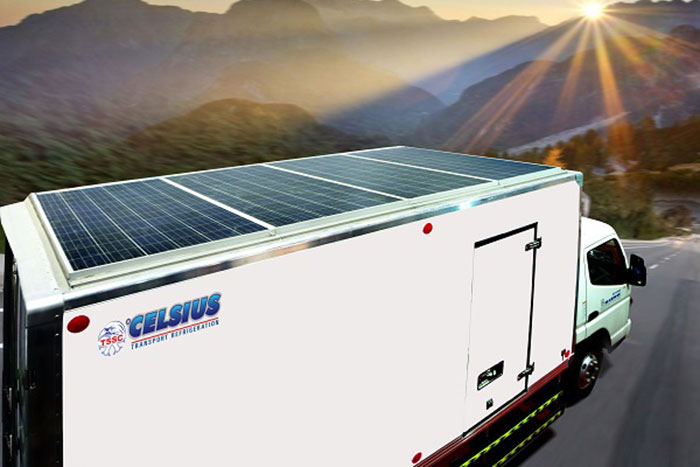 Miro Donabedian, General Manager for Cold Stores & Refrigerated Trucks, TSSC, said: "TSSC capitalizes on its five decades of leading experience in the manufacturing of insulated panels for cold stores and refrigerated truck bodies, a reputation built on quality management systems that follow the highest international standards. We continue to invest in green initiatives that are in line with our commitment towards sustainable engineering in terms of design and production, including improving our operational processes guided by ISO 9001:2015 quality standards. As a leading regional player in the cold chain industry, TSSC holds a 40 per cent market share for cold rooms and a 35 per cent share for refrigerated trucks and is working on innovative insulation products for cold storage and vehicle refrigeration systems. TSSC's expansive manufacturing capabilities have enabled it to build the largest cold store project in the world in Mecca, Saudi Arabia with a total area of 1.6 million square feet."

The insulation manufacturer is the sole producer in the region guaranteed to supply highly fire-resistant Camlock Panel System that comply to FM Approvals Standard 4880. FM (Factory Mutual) is an international leader recognized globally in third-party testing and certification. The company currently produces 1.5 million square meters per year of insulated panels for cold store warehouses to serve an annual demand of 1,800 vans and refrigerated trucks.

Nour Chawi, Division Manager for Refrigerated Trucks, TSSC, noted: "TSSC has been successfully testing products and fabricating vehicles of all types and sizes, equipped to transport dry goods as well as perishables such as dairy, poultry, meat, fruits and juices because we fully understand the challenges faced by the food and beverage industry when it comes to transport and distribution of goods to their markets such as temperature leakage, costly maintenance, higher fuel consumption and inefficiencies in the delivery of products. We address these issues through innovation, which can save a lot of cost, translating to huge benefits to the bottom line and an increasing number of customers in the cold chain sector realize why it is important to adhere to standardization processes, environmental compliance and most especially, the value that TSSC can provide in following rigorous processes of quality tests."

TSSC's solar powered refrigeration unit provides various benefits such as less energy consumption, less noise pollution, elimination of emissions from diesel exhausts and less dependency on the truck engines to maintain cooling in cases where engines are shut off. TSSC's innovative eutectic plate system also ensures the maintenance of temperature inside a cold storage or refrigerated truck for long periods, even after the unit has been disconnected from the power supply.

The company has also been creating added value for its customers using telematics, the latest development in remotely monitoring the overall condition of refrigerated vehicles in transit.

Haris Usama, General Manager of Electromechanical Refrigeration Services, added: "With its in-depth knowledge of refrigeration systems, TSSC proves to be highly capable in delivering world class solutions - creating temperature-controlled storage systems and processing plants using globally accepted natural refrigerants like NH3, H2O, zero ODP and low GWP synthetic refrigerants. These solutions help preserve the environment and contribute to a cleaner atmosphere while also ensuring better return-on-investment (ROI) for customers due to its low energy consumption."

As a result of its top-level performance in the Middle East, the company has been receiving several accolades over the years, including the Climate Control Award 2014 - Manufacturer of the Year (Vehicle Envelope), Climate Control Award 2017 - Manufacturer of the Year (Vehicle Envelope), MEA Awards for Best Insulation Company- Middle East Markets, and Best Factory Performance Award for Thermal Insulation - Dubai Central Laboratories.