About Superpipe
Brochures

Superpipe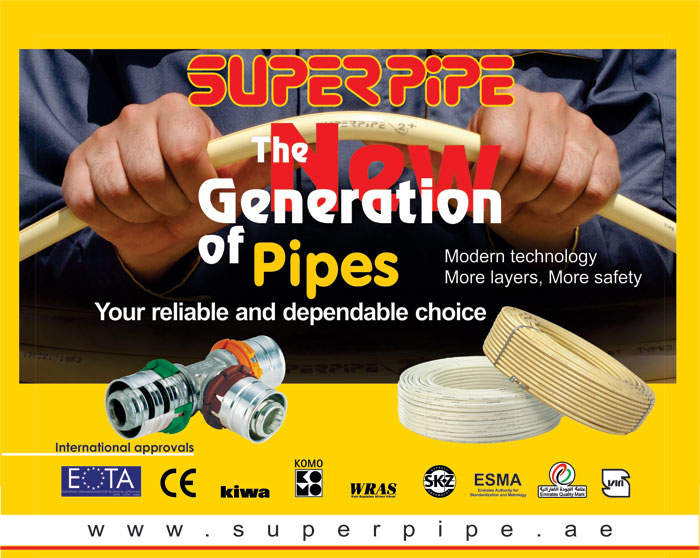 SUPERPIPE the revolutionary multi-layer composite pipe.

The old problem has been solved by modern technology. SUPERPIPE: the perfect composition of metal and plastic to combine the advantages of both metal and plastic pipes without their disadvantages.

This revolutionary multilayer composite pipe consists of an interior aluminum pipe (longitudinally ultrasonic welded) with inner and outer layers of plastic, tightly bonded to the aluminum by means of a special adhesive. The result is the strength of metal with longevity of plastic.

From now, for the question whether to use metal or plastic pipes, the answer would be: SUPERPIPE

The main benefits are:
Over 50 years life at 95°C permanent temperature and 10 bar pressure.
No glue, no welding, no threading, no elbows or couplers.
Bendable by hand at small radius, without spring back.
Easy installation with only few simple tools.
Almost Zero waste due to continuous coil.
Small expansion, no scale build up, good temperature retention.
Low friction, no ingress of gases, inert to corrosion.
Suitable for hot & cold water, gases, compressed air.
Rigid Tin plated brass fitting, with screw or press connection.
Applications:
SuperPipe is hygienic and totally safe for potable water systems and foodstuffs. It is also a perfect choice for heating systems, radiator connection, air conditioning and under floor heating/cooling systems.
But it does not end here. Due to its structure and properties, SuperPipe is universally applicable for industries and hospitals as well. SuperPipe is gas tight, highly resistant to chemicals and performs well at subzero temperatures, making it ideally suitable for industries such as the shipbuilding or aerospace. <
In fact almost anywhere where durability, light weight and resistance to vibration are a vital requirement. Compressed air supply lines are, for example, one of the primary applications of SUPERPIPE in industries.
Also, because the water, fluid or gases passing through it are not contaminated by metal of the pipe, its use in hospitals, laboratories and controlled environments is greatly enhanced.
Source: www.superpipe.ae
22 10 00 - Plumbing Piping
22 11 00 - Facility Water Distribution
22 51 00 - Swimming Pool Plumbing Systems
22 52 00 - Fountain Plumbing Systems

Categories: pipe, fittings, hangers.