UPC Launches Enhanced Street Design Tool at Cityscape Abu Dhabi
The Urban Planning Council (UPC) today launched a comprehensively upgraded online application that allows planners and engineers to design safer and more walkable streets.

The new and improved Abu Dhabi Urban Street and Utility Design tool was unveiled on the second day of the Cityscape Abu Dhabi property exhibition held at ADNEC. Developed by the UPC, the software provides cross-section and overhead views of a variety of street scenes, allowing designers to set road and sidewalk elements, and incorporate features such as parking, public transport, landscaping and utility corridors, all within the guidelines of the UPC's frameworks and manuals.

Senior executives from the UPC held live demonstrations of the tool, going through its expanded capabilities, before handing over to delegates to design their own streets. Visitors to the UPC stand learned how to create a street design that falls within the specifications of the UPC's Abu Dhabi Urban Street Design Manual (USDM).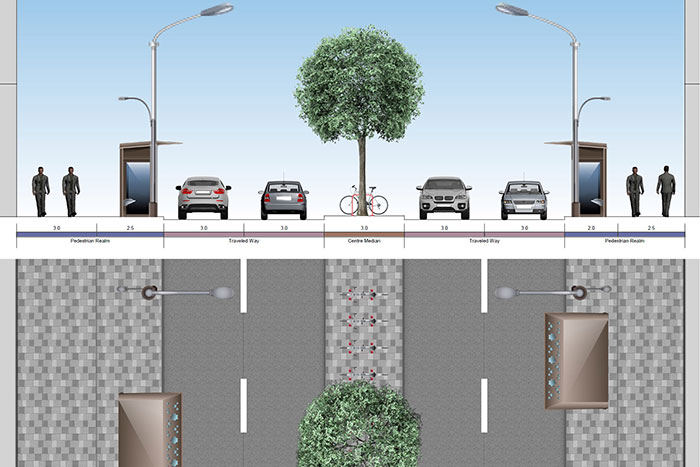 The unveiling follows a nine-month re-design process in which the UPC consulted with a wide range of stakeholders. The result is a streamlined tool that can be used in a greater number of design scenarios, can be customised for use in urban environments all over the world, and features additional languages. Furthermore, it incorporates more of the UPC's manuals, including the Abu Dhabi Utility Corridors Design Manual (UCDM), the Abu Dhabi Public Realm Design Manual (PRDM), and the Estidama Pearl Rating System (PRS), into one tool to make urban street design quicker and more efficient.

Abdulla Al Sahi, Executive Director, Planning and Infrastructure Sector, UPC, said: "What better place than the tenth anniversary of Cityscape Abu Dhabi to launch such an important tool that will have an enormous impact on the design of our streets.
"The UPC is very proud of the new features and is delighted to introduce its capabilities here at Cityscape to so many planners, engineers, students and government agencies. We've been very happy with the reaction it has received so far and are looking forward to seeing it put into practice to have a real impact on the safety and walkability of streets throughout the Emirate of Abu Dhabi and further afield."

The Urban Street and Utility Design Tool is a free web-based application developed by the UPC that allows both experts and non-technical users to quickly design streets and utility corridors. It provides a real-time integrated interface between above- and below-ground elements. By using the Tool, all the different elements of cross-section and plan views such as above-ground street elements, below-ground utilities, and public realm elements can be quickly added and edited.

The ground-breaking software has recently been awarded the 'Smart Mobility Award for Best Overall Technology Deployment and Policy Development' at the ITS and Smart Mobility Awards, highlighting the many strengths of the Tool. The judges of this prestigious award confirmed that the UPC was unanimously voted in first place by all on the awarding panel.

At Cityscape today, Abdulla Al Sahi, the UPC's Executive Director, Infrastructure and Planning Sector, welcomed visitors and members of the press to the UPC's stand and introduced the upgraded tool, before handing over to his colleague Eng. Mariam Al Dhaheri, Senior Planning Professional, Planning and Infrastructure Sector, to conduct a live demonstration.

As Eng. Al Dhaheri highlighted that the re-launched Tool now incorporates four of the main UPC planning documents – the USDM, the UCDM, the PRDM, and the Estidama PRS. If a street planner makes a design change that contravenes the guidelines of these regulations, the Tool will automatically show a warning.

By ensuring that streets are designed in line with the UPC's main documents that form the Complete Sustainable Communities suite of manuals guidelines and standards, the Tool will ensure the development of attractive, safe, sustainable and walkable streets for the residents of Abu Dhabi's many communities. In line with the direction of Vision 2030, and the 2030 Plans that set the framework for the Emirate, the UPC aspires to create communities that encourage walking and cycling, and the Tool certainly supports this objective.

Other key upgrades include the ability to change the user language between Arabic, English and French, as well as between Imperial and Metric measurements. International planners using the tool can even alter between Gulf and Western dress for virtual pedestrians. Designs created with the Tool can now be saved and exported in a wider range of formats, giving greater flexibility to users.

With the guidelines of the Estidama Pearl Rating System now incorporated, users can make 'drag and drop' alterations between different green landscaping options such as trees and hedges, and find out the resulting change in water consumption and shading levels.

Another key upgrade is the ability to design a new streetscape from scratch or make modifications to an existing design. There is even the option to use the tool on tablets and smartphones. The UPC will carry out a comprehensive training programme to familiarise government stakeholders with the exact workings of the new tool.

The upgraded Urban Street and Utility Design Tool is now live and is free to use at https://usdm.upc.gov.ae/USDM/

Website:
https://usdm.upc.gov.ae/USDM/