UPC to Launch its New Vision for the Future at Cityscape 2015
The Abu Dhabi Urban Planning Council (UPC) will unveil a new corporate vision at Cityscape 2015 that more accurately defines its role, it was announced today.

The updated vision and mission statements reflect the way the organisation has evolved since its inception in 2007 and are more specific in the way they represent the UPC's objectives. Both are more aligned with the UPC's mandate as guardian of the Abu Dhabi Vision 2030.

The UPC will also officially announce the projects that have been given the go-ahead in Q1 2015, following the recent announcement of 76 Emirate-wide projects during 2014, in addition to showcasing a range of sustainable products through their Estidama Experience Centre.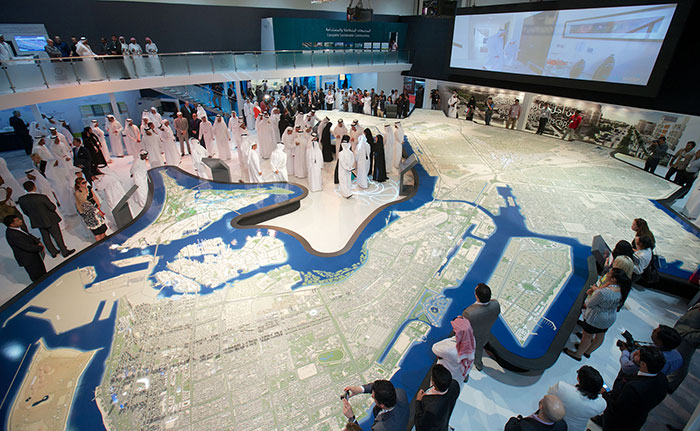 The Estidama Experience Centre is one of several interactive components which are sure to make the UPC's stand one of the highlights of this year's Cityscape, which runs from April 21 to 23 at Abu Dhabi National Exhibition Centre. Cityscape is the Middle East's largest annual real estate event.

Other unique offerings at the UPC stand this year will include the impressive, scale model of the Abu Dhabi Metropolitan Area that has proved a hit at past Cityscapes, and interactive kiosks where people can learn about the Emirate's framework plans, as well as the UPC's master plans, policies and initiatives.

With the theme of 'Help for All', the Estidama Experience Centre will display a selection of technologies and practices that can be applied to both new and existing villas, highlighting that everyone can take steps to create a sustainable home.

It aims to demonstrate the different ways that homeowners can maximise resource efficiency and quality of life, whether they are looking to make improvements to their existing villa, or are looking to build a new home. The Experience Centre will illustrate how relatively small changes in design can play an important role in supporting Abu Dhabi's sustainable future.

Visitors will be able to watch demonstrations of how insulated villa windows reduce the transfer of heat from outside to inside, which results in an 18% reduction in cooling energy, and how adding external wall and roof insulation, in addition to the windows, reduces the transfer of heat from outside to inside, thereby requiring 39% less energy to cool the villa. Through these measures, air infiltration is improved, which adds a further 4% saving, which in total brings the predicted savings in cooling energy to 43%. The Estidama team will be conducting air leakage demonstrations to show how air infiltration is affected by different window selections, which can reduce the amount of outside air from entering the villa.

A solar hot water heater will be on display to demonstrate how energy from the sun can be used to heat water in a villa, without using energy from the mains supply; studies have shown that by using energy directly from the sun, between 50-70% of the energy required for a villa's hot water needs is provided for free. An insulated water tank will also be on display, to show how cold water can be kept cooler in hot climates.

The UPC's scale model of Abu Dhabi, measuring 23 metres by 17 metres, will once again be a centrepiece of the Cityscape exhibition. It shows the Abu Dhabi Metropolitan Area and includes new and existing projects as well as famous landmarks such as the Sheikh Zayed Grand Mosque, Emirates Palace and Ferrari World on Yas Island.

The model includes renditions of Al Raha Beach East and Al Maryah Central, which are among the 76 projects approved by the UPC in 2014. The model also includes the latest progress on Al Reem Island.

There will be interactive kiosks at the stand, where visitors can find out more about the UPC's development frameworks under Abu Dhabi Vision 2030; including Plan Capital 2030, Plan Al Gharbia 2030, Plan Al Ain 2030 and Plan Maritime 2030.

Dedicated 'Infopods' will be available, explaining the guiding principles behind the UPC's 'Complete Sustainable Communities' (CSC) initiative. This year's UPC stand will once again feature an interactive fly-through screen; using a control pad, users can navigate their way around a virtual community, exploring the kinds of facilities such as shaded streets and various community facilities, including schools, medical centres and mosques, that make up a Complete Sustainable Community.

The CSC initiative encompasses the UPC's suite of policies, regulations and manuals and demonstrates how they combine to help planners create high-quality, liveable and sustainable communities.

HE Falah Al Ahbabi, the UPC's Director General, commented: "Cityscape provides an excellent opportunity for delegates and exhibitors to look towards the creation of strategic public-private partnerships. Working collaboratively will support the achievement of Vision 2030, which is the ultimate goal of the Government of Abu Dhabi, by encouraging sustainable growth. Abu Dhabi is developing at an incredible pace and we, as government entities, must be proactive in developing the kind of platform required to support this growth."

"This growth should not comprise the sustainability of the Emirate. Therefore, Estidama is at the heart of any urban plan or development in Abu Dhabi, whether it be residential, commercial, community or mixed-use. Additionally, the UPC always considers the lifestyle component, to ensure that a development is as liveable as possible. Ultimately, we are transforming Abu Dhabi into a world-class sustainable capital city, to ensure the longevity of the Emirate for future generations."

Since 2008, the UPC's Urban Development team has delivered 454 projects and master plans. In addition to those outlined above, these Projects and Master Plans include Zayed University (Zayed City), Al Maryah Island, the Guggenheim Abu Dhabi (Saadiyat Island), Abu Dhabi World Trade Centre and Yas Waterworld, among many others.

Since the Estidama programme was launched four years ago, a total of 11,881 villas and 921 buildings have been awarded a Pearl Rating. As of March 2015, 1,932 villas were awarded a 1 Pearl Rating, 9,355 villas 2 Pearls, and 594 villas were awarded a 3 Pearl Rating. Of the buildings, 363 were awarded a 1 Pearl Rating, 521 buildings 2 Pearls, 34 buildings 3 Pearls, two buildings 4 Pearls, and one building was awarded a 5 Pearl Rating. The numbers include Pearl Design Rated awarded projects across the Emirate.

Website:
http://www.upc.gov.ae/