Upswing in investments in Middle East for efficient Air Traffic Control
If you are thinking the skies don't have traffic jams for airliners, you are wrong - at least, for now.

The airline industry made history by registering its busiest day ever when a record-making 202,157 flights were monitored criss-crossing the skies the world over in June last year. More than 19,000 flights at once at the day's peak were recorded. A year earlier, it was found that there were on average 9,728 planes in the air at any moment, carrying 1.27 million passengers.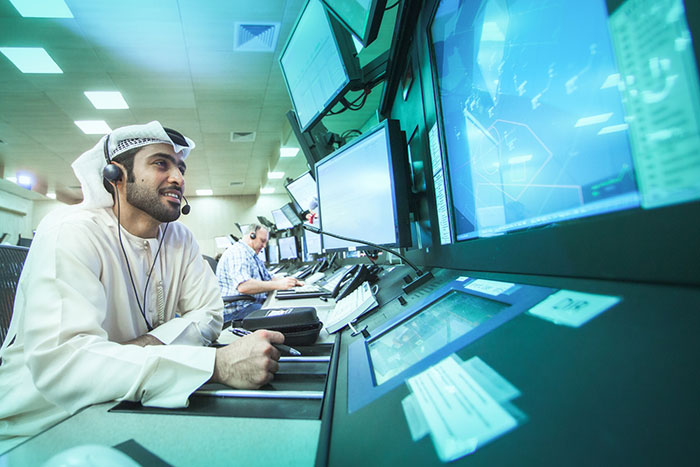 The civil aviation industry has been grappling with crowded skies. Air Traffic Control (ATC) plays a crucial role globally taking into account the fact that over 1,300 airlines operate a fleet of 28,400 aircraft serving 3,759 airports through a route network of several million kilometres managed by 173 Air Navigation Service Providers (ANSPs).

The number of aircraft in the skies will more than double by 2037, according to Airbus which says half the present 21,450 aircraft flying will still be aloft in 20 years. By 2034, the fleet of passenger and freighter aircraft in the Middle East region alone will almost treble to over 2,950. The total aircraft movements to and from and within the Middle East region, which currently has 36 airports, is estimated to increase to 2,346,000 in 2025.

EUROCONTROL, the Brussels-based agency in charge of monitoring the continent's skies, estimates that over 60 European airports will be heavily congested and the top 20 airports will be saturated at least 8-10 hours per day by 2025. It said there won't be enough capacity for approximately 1.5 million flights or 160 million passengers in 2040. In Dubai, home to the world's biggest airport for international travellers, aircraft movements have grown 50 per cent since 2010. The emirate currently manages a daily average of 1,500 air traffic movements with new procedures enabling it to reduce peak arrival delays by 40 percent.

His Excellency Mohammed Abdulla Ahli, Director General of Dubai Civil Aviation Authority (DCAA) and CEO of Dubai Air Navigation Services (dans) remarked: "Technology plays a crucial role in today's ATM. The ANSPs have to invest in acquiring cutting-edge technologies to remain competitive and relevant with the changing times and meet the requirements of the present and future. As the volume of aircraft movements rises, ATM has assumed increasingly vital importance for the airports. Dubai Air Navigation Services (dans) has invested significantly to remain an inspirational ANSP."

The number of flights that the emirate will be handling by 2020 will reach 665,000 yearly. Dubai's two international airports are projected to handle up to 240 million passengers a year in the near future. "Ensuring smooth, hassle-free and timely aircraft movements remains a priority for dans to keep up Dubai's hard-won status as the world's top airport for international travellers," His Excellency Mohammed Ahli observed.

A new ATC system to speed traffic flow through the Arabian Gulf's increasingly congested airspace has been introduced by the UAE's General Civil Aviation Authority (GCAA). It has implemented the world's first airspace structure to be completely based on performance-based navigation (PBN) which uses satellites and computerised on-board systems. It projected that there will be approximately 1.85 million flights in 2030 per annum to and from the UAE. The average number of daily flights will increase to 5,087 in 2030.

For the second successive year, Airport Show will feature the ATC Forum as a co-located event, providing a vital platform for global ANSPs, regulators and stakeholders to discuss key issues affecting regional airspace capacity and efficiency. Held under the patronage of His Highness Sheikh Ahmed bin Saeed Al Maktoum, President of Dubai Civil Aviation Authority (DCAA), Chairman of Dubai Airports and Chairman and Chief Executive of Emirates Airline and Group, the event will be held at the Dubai World Trade Centre from April 29 to May 1. With a record 375 exhibitors expected from 60 countries, it will have about 7,500 attendees.

His Excellency Mohammed Ahli added: "The ATC Forum at Airport Show will provide ANSPs and others the opportunity to explore the latest technology and innovation in the ATM/ATC domain in order to remain on the cutting-edge of the business. One cannot eliminate technology from the present and future plans if the airport has set its sight on flying higher."

Speaking about the event, Daniyal Qureshi, Group Exhibition Director, Reed Exhibitions, organisers of the event, said "This year's ATC Forum will attract over 1,000 attendees, including a dedicated conference with up to 250 expected participants. We are pleased to be able to provide such an important platform for our industry to engage. With the projected enormous traffic growth and continued quest for better safety, aviation is redefining itself by deploying and expanding its infrastructure and adopting new technologies while remaining nimble and efficient in operations."

Driven by efforts to modernize ATM infrastructure and the need for efficient airspace management, the global ATC market is projected to reach US$56.07 billion by 2022, according to the latest MarketsandMarkets report. The rise in demand for air connectivity will see aircraft movements in the Middle East region go up 5.2 per cent annually by 2030 and Gulf airports are expected to handle 450 million passengers by 2020, according to International Civil Aviation Organization (ICAO).

@AirportShow1 #AirportShow1 #DubaiAirportShow