Valve sizing and selection made easy.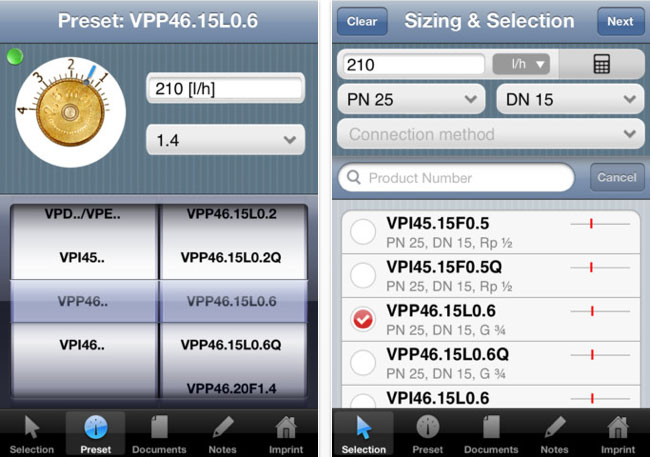 The Siemens Building Technologies Division has introduced a free iPhone application which makes it easy to find the right Acvatix combi valve and the matching actuator for each desired application. Aimed at planners and installers, the Combi Valve Sizer app is available for download now.
The new Combi Valve Sizer app from Siemens facilitates the planning and implementation of HVAC systems using multifunctional, pressure independent Acvatix combi valves. The app makes it easy to find the right Acvatix valve and matching actuator. Users only need to enter the required maximum volume flow or have it calculated, and the app then suggests the best combi valve for that application.
If desired, users can refine their search by entering additional characteristics such as thread type, PN level or DN class. The matching actuator can be selected the same way. Additional information about the suggested devices are found in the datasheets available on the web for all Acvatix combi valves and actuators. Users can access these datasheets right from the app.
Combi Valve Sizer not only helps with the selection of valves and actuators, it also provides support for planning and installing energy-efficient HVAC systems. For example, the app calculates the required preset for the desired volume flow in conjunction with the selected valve.
Conversely, users can also determine the maximum volume flow for any given preset. Going beyond simple operations, the integrated volume flow calculator includes in its calculations not only the medium but also temperature differences or different coolant concentrations.
Combi Valve Sizer runs on iPhones with iOS 4.3.3 and higher. The German and English version is available now free of charge in the Apple App Store. Other languages are in development. The app does not require Internet access except to download datasheets.
Acvatix combi valves are part of Siemens' Environmental Portfolio. In fiscal 2011, revenue from the Portfolio totaled about €30 billion, making Siemens one of the world's largest suppliers of ecofriendly technologies. In the same period, our products and solutions enabled customers to reduce their carbon dioxide (CO2) emissions by nearly 320 million tons, an amount equal to the total annual CO2 emissions of Berlin, Delhi, Hong Kong, Istanbul, London, New York, Singapore and Tokyo.