Vimar Arké is here
A new way of living household energy. With all the quality expected from Italian-made goods. Designed in the present for the future, Arké is the Vimar solution to today's needs: a simple yet current and long-lasting object that offers a concrete, intelligent contribution to our daily lives, with home automation that simplifies home management while optimising consumption.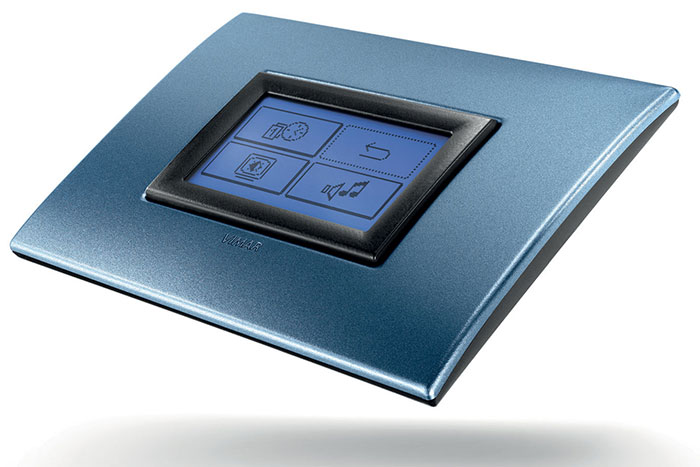 Featuring a contemporary design, the new Vimar residential series comes in two shapes, inspired by the principle of simplicity: the cover plates are divested of all superfluous decoration, defining a new energy model.

Arké Classic: rational shape, linear profile and clean corners.
Arké Round: sinuous surface, slightly curved with soft corners.
Seven modern materials to choose from – painted metal, galvanised metal, solid wood, Reflex, painted technopolymer and technopolymer – all produced with the typical attention to detail expected of that unmistakeable Italian style, treated with eco-friendly processing, co-moulding with excellent finish and wear-proof painting.
Arké can be dressed in the colours that best suit the space in question, with no limits to the possible combinations. Buttons and controls - with a pleasing two-way convex shape - come in elegant natural anthracite grey or the luminous sobriety of white, to naturally match the wide range of colours and create the combination that best suits your living space.
With more than 200 functions with advanced performance and cutting-edge intuitive controls, Arké facilitates your everyday movements, optimising time and energy.
Arké controls
Switch on a light, open a door, lower a shutter: everyday actions that Arké makes more pleasant and immediate. Thanks to the precision of its new axial controls; the clarity of the night&day symbols that indicate the various functions, the LED backlighting. Different types of controls for practical management, like the infra-red remote control. And extended modularity that guarantees the fullest installation freedom.
Arké illuminates
High-efficiency light sources, optimised for different uses: so lighting gets where it needs to be, with no waste. Automatic modular lights, step markers, warning lights and removable emergency torches that light up in the event of a black out. Every device uses ultra-modern LED specular transparent diffusers. For a truly brilliant performance.
Arké protects
A precise, silent technology that watches over you and your home, day and night: detectors block and warn of gas leaks; intrusion alarms warn of any attempt to break in; interlocked sockets protect from accidental contact in the bathroom and kitchen, and anywhere electrical devices are used frequently.
Arké saves
Ultimate comfort and energy savings: this is possible, with Arké. Universal dimmers adjust the intensity of LED and low consumption (CFL) lights to create the perfect atmosphere. Timer-thermostats and programmer clocks are used to automatically or manually set the ideal temperature and other functions, to avoid waste. And the radio-frequency, wireless and battery-free technology allows the system to be extended with no brick work, adding new lighting points where you need.
Arké entertains
With music from the radio, your mp3, iPod or iPhone, diversified or the same in every room, to suit how you feel at the time. But also with a wide range of audio, video and USB inputs, allowing you to transmit the extraordinary multimedia performance of your home entertainment system in every room.
Arké communicates
Guests are welcomed elegantly by a modern video door entry setup with a stand-alone system. The device lets you see who's outside the house on its colour display with touch controls and clear, intuitive graphics.
Arké and By-me
Energy is precious, and we must be increasingly careful with how we use it, by opting for technologies that reduce consumption. Arké, with the By-me home automation system, prevents energy wastage and makes it easier and quicker to manage all rooms in the home. A concentration of intuitive technology used to create scenarios for lighting, climate and music, as well as controlling home appliances, shutters and alarm systems without losing sight of energy consumption in the home as a whole. Various actions coordinated by just one system: you can supervise and manage all the functions simply by touching the touch screen. Fully customisable programmes that can also be managed remotely via the remote control from a PC and mobile phones, in addition to ultra-modern smartphones and tablets.
Website:
http://www.xn--ark-dma.it/en