Vimar Patavium and Steely. Video door entry panel born to satisfy all styles.
Vimar presents two new video door entrance panels ready to be integrated harmoniously in every urban context. Diversified for shapes, finishes, and materials they share the same common denominator: their refined design, in accordance with the most demanding architectural expectations.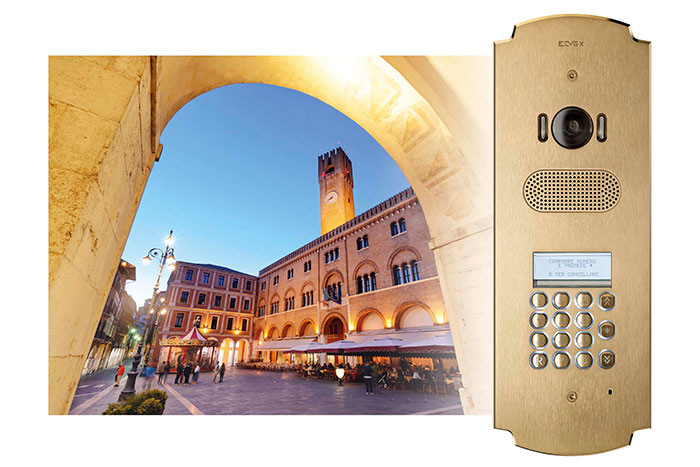 With these premises, Patavium and Steely are born. Patavium unifies the fascination of brass with rounded, elegant, timeless lines and Steely, made of steel, modern and linear. Perfect to interpret all aesthetic and functional needs.

Patavium: timeless style and charm. Sinuous curves are emphasized by golden reflections for a still actual concept of beauty and refinement.

The timeless design and the satin brass make it the perfect option in prestigious contexts or combined with historical buildings. It is ideal to enhance all spaces in every single personal expression.

Steely is contemporary, modern and technological. Its modern appeal and an excellent aesthetic look of the stainless steel surface make this panel extremely modern, linear and simple.

Three characteristics combined with a strong attitude towards innovation, that make Steely the perfect solution to any kind of building, supporting any functional necessity.

Satin brass and steel: materials with a well-defined identity that combine aesthetic and resistance communicating harmoniously with any environment. They are the result of innovative productive processes and express the attention of Vimar at Made in Italy's typical finishes.

Steely and Patavium can be freely combined through a wide range of choices between audio and audio/video units, expansion modules with buttons module, display and alphanumeric keyboard.

Once installed, the result is a perfect video image thanks to high performances of the audio/video module, a camera with manual horizontal and vertical pan-tilt movement and the lighting of the area with white LED light.

A high-quality audio playback thanks to the opportunity of regulating indoor and outdoor volume and adjusting the voice balancing to get a perfect conversation volume, but also thanks to full duplex communication.

Thanks to Due Fili Plus Technology Patavium and Steely allow the realization of any kind of building to ensure the highest performances from the small house to the largest residential complex ensuring precise connections among all devices.

It is possible to realize systems that can manage up to 484 entrance panels, 6.400 indoor stations and 128 reception switchboards in total. Audio and video signal are played perfectly up to a maximum distance of 1200 meters between entrance panel and indoor video entry station.

Result of stylistic in-depth researches, Patavium's smooth and timeless lines and Steely's modern and essential lines represent two discreet and elegant interpretations that combine quality and appearance, innovative technologies and a user-friendly use.

@vimar_com #vimar_com #vimar #VimarPatavium #VimarSteely