VitrA Frame Collection - Geometric and pure design for authentic pleasure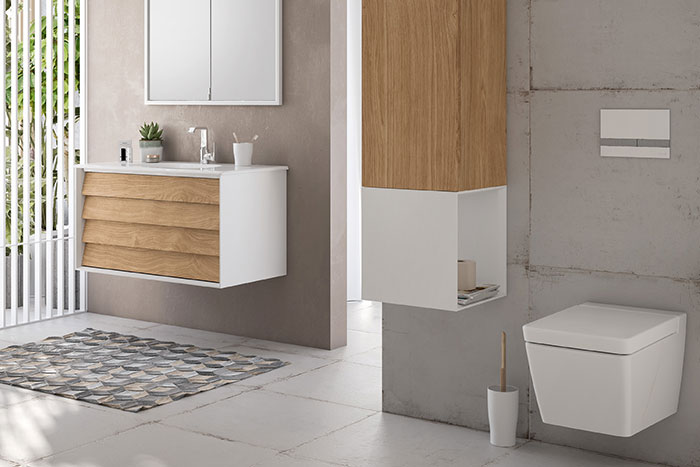 Authentic and modern design merge with the finest technology and functionality in this collection. Offering black, white-oak and taupe color options addressing any taste, Frame's uniquely designed products create an unusual bathroom experience for its users.

A gray-colored non-slip mat inside the drawers ensures comfort, while LED lighting creates a warm and pleasant ambiance in bathroom. A bathrobe unit providing spacious storage on multiple shelves is versatile, elegant and particularly suitable for bathrooms. Other side of the unit has hanging pins for bathrobes and towels. Washbasin units and mirrors with LED lighting create elegant atmosphere in bathrooms.

WC Pan with photocell-controlled bidet function provides a touch-free and comfortable hygiene experience. Built-in mirror cabinet provides functional usage thanks to its plug socket, mini-magnifying mirror, inner glass shelves and soft-closing doors. Soft-close drawers in the washbasin units support bathroom safety and silence. Drawer non-slip mats add extra elegance and comfort.

With different dimensions for maximum ease of use, countertop washbasin units with 60, 80, 100, 120 cm and vanity units with 60, 80, 100 cm width options complement graceful lines of the washbasin unit. Frame's vanity basins are designed with expansive areas for toiletries and deep bowls to ensure your comfort. Washbasins are offered in white and matte taupe color options.