About WAGO 855 Series Plug-In Current Transformers
Brochures

WAGO 855 Series Plug-In Current Transformers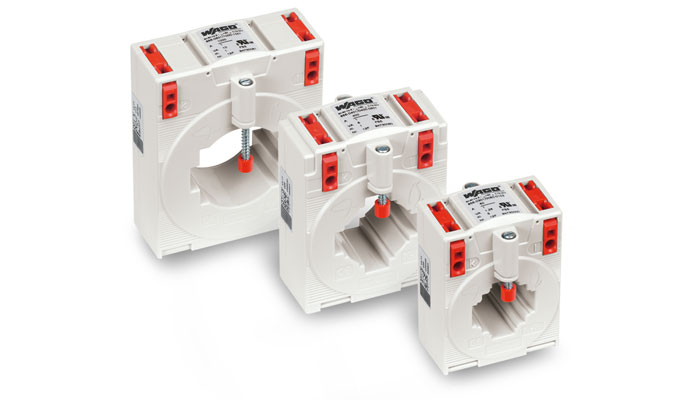 The 855 Series Plug-In Current Transformers are UL Recognized Components. Suitable for 230 V, 400 V and 690 V low-voltage applications, their maximum operating voltage is 1.2 kV. The 855 Series units transform rated primary currents into electrically isolated secondary currents up to 1 A — with a measuring accuracy of one percent (accuracy class 1). They can be used in operating temperatures ranging from -5 °C to +50 °C and may be permanently loaded with up to 120 percent of the nominal current.
CAGE CLAMP® connection technology provides screwless termination of conductors ranging from 0.08 to 4 mm2 (AWG 28–12). Conductors can be terminated from both the front side and the rear side of the transformers. The 855 Series plastic housing is extremely robust and can be mounted in four different ways: on round cables, on copper current bars, on mounting plates and – depending on the version – on carrier rails. Plug-in current transformers are well-suited to measuring and processing high currents. Therefore, they are ideal for energy data acquisition via WAGO's 3-Phase Power Measurement Modules (750 Series) or JUMPFLEX® Transducers (857 Series).
Screwless connection technology: WAGO's 855 Series Plug-In Current Transformers are equipped with CAGE CLAMP® connections.
WAGO's 855 Series Plug-In Current Transformers are available for various primary currents.

Source: http://global.wago.com
23 09 00 - Instrumentation and Control for HVAC
25 00 00 - Integrated Automation
25 52 00 - Integrated Automation Control of Conveying Equipment
25 55 00 - Integrated Automation Control of HVAC
25 56 00 - Integrated Automation Control of Electrical Systems
25 57 00 - Integrated Automation Control of Communications Systems
25 58 00 - Integrated Automation Control of Electronic Safety and Security Systems
26 24 00 - Switchboards and Panelboards