Winners of the Construction Technology Awards 2021 Announced
The third Construction Technology Festival (CTF) successfully concluded on June 2. The highly anticipated event was the industry's first in-person conference and exhibition in 2021, welcoming over 300 attendees.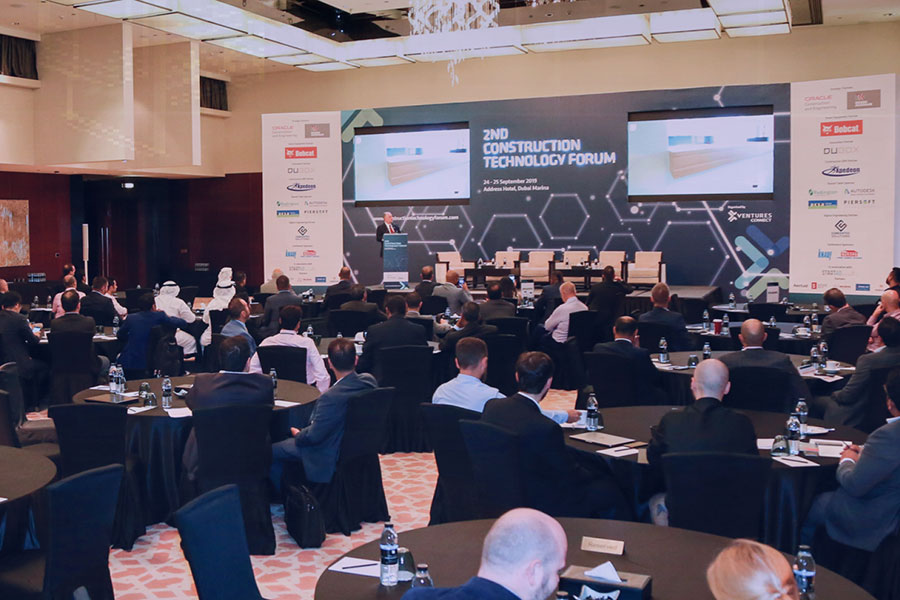 Attendees were delighted to meet face-to-face for the first time in months and enjoyed the opportunity to network in person again, reconnecting with current peers while expanding their network with new connections.

Maged El Hawary, CIO at ASGC Construction, said "Construction Technology Festival is back as the must-attend event for our industry. I was so pleased to reconnect with all the relevant AEC leaders face-to-face. For the first in-person event for our industry this year, it was a distinguished start to what feels like 'normal' in Dubai. And it was good to see that confidence in the run up to Expo."

Katie Briggs, Content Director from the co-organiser b2b Connect, added "After events being digital-only for so long, it was important that CTF 2021 was held in person, providing the opportunity for much-needed networking. Speakers and attendees really appreciated bumping into industry colleagues and meeting new people again".

The two-day event, hosted on June 1 and 2 at the Address Hotel Dubai Marina, saw guests from the Architecture, Engineering, and Construction (AEC) sector share new digital methods that help design, build and operate assets better, and deliver projects more efficiently, quickly, sustainably and safely.

Exploring 10+ digital disciplines
The Festival explored 10+ digital disciplines including Digital Twins, Internet Of Things (IoT), Artificial Intelligence (AI), Architecture, Engineering, and Construction (AEC) Data, 3D Printing, Offsite Methods, Automation, and Building Information Modelling (BIM).
Exclusive industry insights from 60+ renowned speakers
Over 60 speakers took to the stage to shed light on the technologies that worked for them and how companies can implement these tools, including Saudi Aramco, The Red Sea Development Company, Amaala, Amana Group, Dubai Municipality, ALEC Engineering and Construction, AECOM, China State Construction and Engineering, and Atkins.
Katie Briggs, Content Director at b2b Connect, said "It is clear that the shift towards digitalisation in AEC is now unstoppable. It is no longer if technology will be used within the sector to improve its performance, but how''.
This was evidenced by the number of case studies given across both days that presented real-world results. This included the widespread and more sophisticated use of BIM, the use of monitoring and sensors coupled with IoT systems, and the growing use in the region of Digital Twins.
A glimpse of the AEC sector's digital future
Throughout the construction value chain, processes are being re-evaluated and areas of resistance are weakening as clients, developers, consultants, and contractors alike said they are increasingly realising the benefits of digital transformation. Regional case studies, shared by the speakers, highlighted how building an effective digital strategy has allowed them to curb inefficiencies and waste, increase efficiencies, and in some cases, provided direct financial benefits to the organisation.
The event underlined that offsite methods of construction bring tangible benefits to the industry, particularly around safety and reduced waste of materials, as well as introducing predictability to build processes.
3D printing is similarly offering benefits in safety and sustainability, and is introducing new and more ambitious opportunities around design and the shapes used in buildings. Speakers shared that the next step for 3D printing was to scale from the proof-of-concept buildings to more commercial and commoditised structures.
Meet the winners and highly commended people, organisations, and projects of the Construction Technology Awards 2021
The Construction Technology Awards 2021 recognised and celebrated the best-in-class use and leadership of technology within the built environment.
Over 50 shortlisted projects, organisations, and people competed across hotly contested categories including Digital Transformation, Offsite Project, BIM Implementation and Construction Technology Leader of the Year.
3D Printed Construction of the Year
Winner: The largest 3D printed structure in the world
Entered by Dubai Municipality
Offsite Project of the Year
Winner: The Coastal Village Residential Buildings for The Red Sea Development Company
Entered by DuBox by Amana
BIM Implementation of the Year
Winner: The Red Sea Project
Entered by The Red Sea Development Company
Digital Project of the Year
Winner: ALEC Engineering and Contracting
Digital Transformation of the Year
Winner: Aldar Properties
Highly Commended: AECOM
Sustainable Organisation of the Year
Winner: Multiplex Constructions LLC
Highly Commended: The Red Sea Development Company
Start Up of the Year
Winner: TENDERD
Construction Technology Rising Star of the Year
Winner: Tamer Elgohari, ASGC Construction
Construction Technology Leader of the Year
Winner: Jason English, Al Laith
Highly Commended: Mansour Faried, China State Construction Engineering Corporation Middle East
Woman in Construction Technology of the Year
Winner: Maryam Obaid Almheiri, Dubai Municipality