World's Largest PDH Plant Construction Project Streamlined
As the world's largest Propane Dehydration plant (PDH) takes shape in Saudi Arabia, Mammoet ensured that its critical components all arrived in the right sequence, and were installed smoothly and safely into position, minimizing port charges and reducing onsite congestion. During construction on the congested site, customized lifting system ensured efficient use of space.

With Saudi Arabia looking to diversify its economy, the petrochemicals sector is poised for considerable growth. Forecast to allocate more than a third of its oil output to chemical production by 2030, several new facilities are now being built across the Kingdom.

One of the largest of these new facilities is a vast new Propane Dehydration plant being built by Samsung Engineering for Advanced Polyolefins Company (APOC) in Jubail Industrial City. Producing more than 840,000 metric tonnes of propylene each year, this is set to be the largest PDH plant in the world, increasing Saudi Arabia's total propylene output by more than 60%.
With a project of this type, the challenges are immense. A constant flow of prefabricated components must arrive onsite in exactly the right sequence to be installed safely into position.

Recognizing the project's complex requirements, Mammoet proposed a carefully planned and integrated, all-in-one solution to streamline operations and minimize risks, driven by the company's firm commitment to efficiency and safety. Its team of experts took charge of the full scope of factory-to-foundation logistics, marine and land transport and heavy lift requirements. In doing so, it was necessary to choreograph many domestic and international shipments, handle some of the largest prefabricated components ever constructed, and deliver a series of spectacular heavy lift operations – while overcoming some unexpected challenges along the way.
Factory to foundation transport
Mammoet's expertise in inland and marine transportation played an essential role in transporting 15 vast pipe rack modules, measuring up to 46 meters long and 33 meters high, and weighing up to 1,900 tonnes, from a fabrication facility in the United Arab Emirates to Saudi Arabia. By organizing six consecutive voyages and utilizing its nearby yard as a laydown facility, Mammoet optimized the sequencing, reduced onsite congestion and streamlined the operations.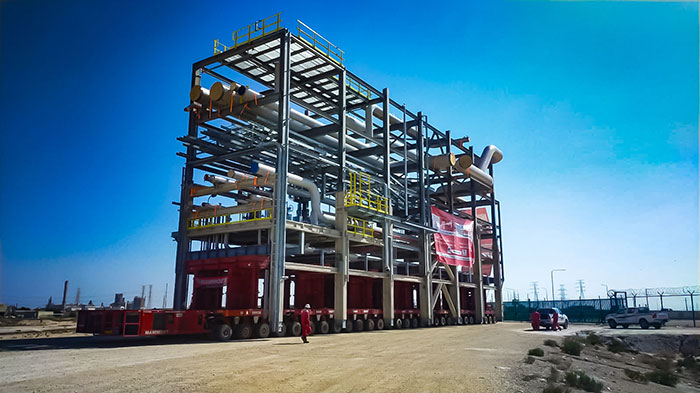 The in-kingdom transportation process included both imported and locally built components, as well as the plant's central process tower, or product splitter. To negotiate the 26-kilometre route from the quayside and the laydown facility to the project site, Mammoet performed complex route simulations, determined where and how the road network would need to be modified and strengthened, and managed all permitting processes with the Saudi authorities. A large fleet of transport equipment,– including 180 axle lines of SPMT, 60 conventional axles, and eight prime movers were utilized for the safe delivery of components.
Heavy lift operations
Among the 125 separate heavy lift operations, erecting the 129m tall, 10m wide, 1,600t product splitter was the most challenging. Leveraging their expertise and specialist equipment, Mammoet drafted in a tower gantry lifting system, and a 1,250t capacity crawler crane - a CC6800 with 850t counter weight. The CC6800 handled the tail, keeping it clear of the ground throughout the lift, while the gantry's hydraulic lifting system hoisted the product splitter from the top. Unlike most gantry lifting systems, Mammoet's is entirely freestanding and requires no guy wires, even at a height of 130 meters. This means the footprint is kept to an absolute minimum, which is an important consideration on a busy and congested site like this one.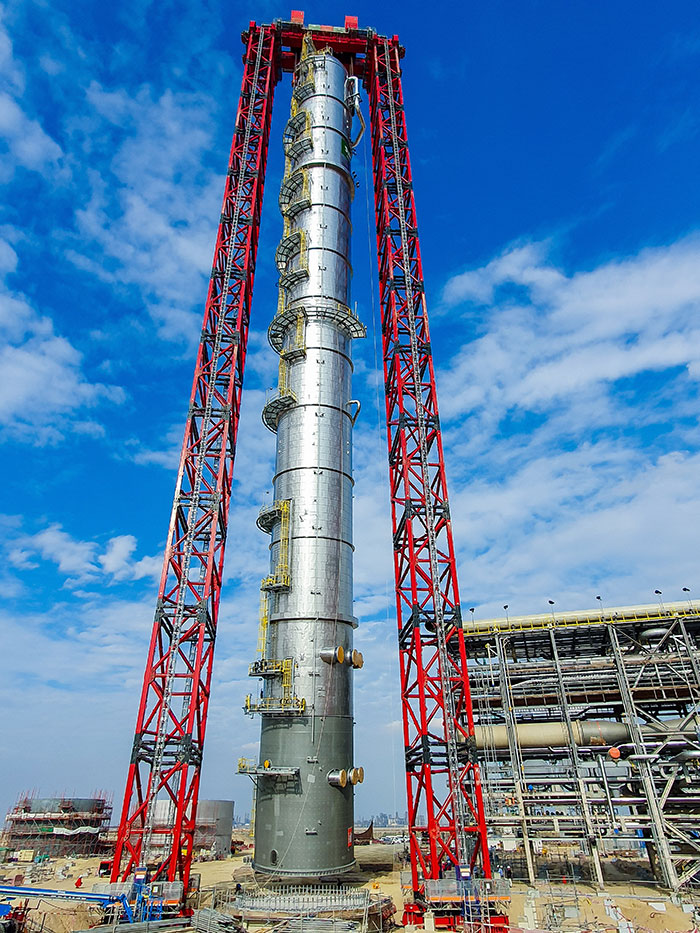 Throughout the project, Mammoet's team demonstrated their expertise in overcoming unexpected challenges, including delays in module fabrication and design modifications in the UAE, which required replanning and handling larger than anticipated modules. Meanwhile, in Saudi Arabia, maintenance of bridges along the transport route threatened to delay the project by up to two months. However, with a solution-oriented mindset, the Mammoet teams came up with workarounds – including the deployment of temporary bridging systems.

Mammoet's scope is largely complete, and the project is due to be completed and commissioned on schedule, ready for the facility to become operational from 2024.
@mammoetglobal #mammoetglobal #mammoet #heavylifting #heavyhaul
Website:
https://www.mammoet.com/