Xtesa Plain, the new minimalist pergola with winding fabric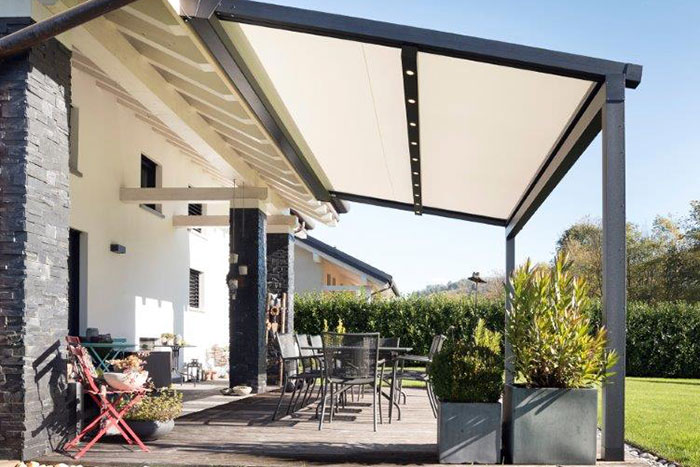 KE presents XTESA PLAIN, XTESA's "light" version, an innovative pergola with winding fabric, instead of the typical packaging model.

XTESA PLAIN is perfect for installations in extreme architectural environments, able to reach considerable overhangs with limited slopes. Furthermore, the rolled-up fabric ensures an excellent aesthetic result, in contrast with the typical hulking packaging fabrics. XTESA PLAIN is perfect to cover wide areas, thanks to its modularity, which is developed in width.

The structure ensures a certified resistance to water and wind while protecting from sunrays, maintaining the environment's thermal insulation. Moreover, it is possible to equip it with climatic sensors that regulate the fabric movement depending on weather conditions (sun, wind, rain); they are comfortably manageable through an App for smartphone and tablets.

XTESA PLAIN is different from the XTESA model only for the absence of hooks and electromagnet in the caps of the front guide. The movement is carried out through 120 NW tubular motors. Thus, the motor's programming is identical to the one of a normal tubular wireless motor, with no need for a control unit.

@keoutdoordesign #keoutdoordesign