Zayed Future Energy Prize Recognises Nine New Winners
Former Prime Minister of Norway, Dr. Gro Harlem Brundtland, yesterday received the Lifetime Achievement Award of the Zayed Future Energy Prize at an awards ceremony in Abu Dhabi. Dr. Brundtland, Deputy Chair of The Elders and Vice Chair of the United Nations Foundation, was recognised for her lifelong dedication to furthering the cause of sustainability and her steadfast advocacy of sustainable development.

The Zayed Future Energy Prize is the UAE's international award that recognises and empowers pioneers in renewable energy and sustainability. The prize is part of the UAEs vision and commitment to finding solutions that will meet the challenges of climate change, energy security and the environment.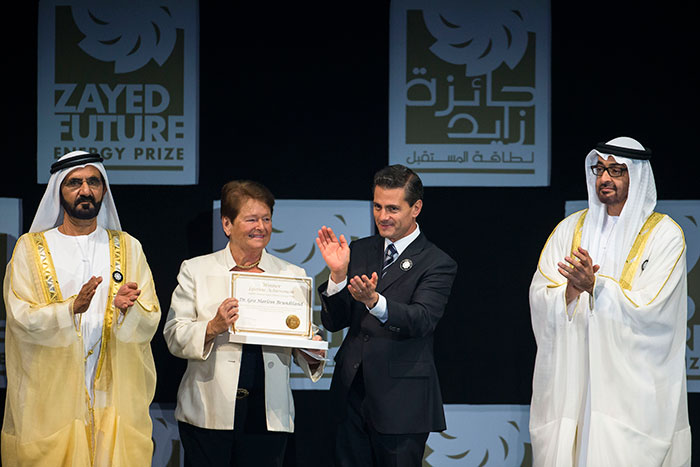 HH Sheikh Mohamed bin Rashid Al Maktoum, Vice-President, Prime Minister of the UAE and Ruler of Dubai (L), HH Sheikh Mohamed bin Zayed Al Nahyan Crown Prince of Abu Dhabi Deputy Supreme Commander of the UAE Armed Forces (R) and HE Enrique Pena Nieto President of Mexico (2nd R) present the Zayed Future Energy Prize Lifetime Achievement award to Dr Gro Harlem Brundtland, former Prime Minister of Norway, current Special Envoy with the United Nations, and the Deputy Chair of The Elders (2nd L), during the opening ceremony of the World Future Energy Summit 2016, as part of Abu Dhabi Sustainability
The Large Corporation category prize was awarded to Chinese electric vehicles manufacturer BYD. Tanzanian energy access business Off.Grid.Electric was the winner in the Small and Medium Enterprise category, while Indonesian non-profit organisation Kopernik was announced as the winner in the Non-Profit Organisation category. Joining them were five schools spanning five regions of the globe, who were the winners in the Global High Schools category.

In attendance at the awards ceremony were His Highness Sheikh Mohammed bin Rashid Al Maktoum, Vice President and Prime Minister of the UAE and Ruler of Dubai, His Highness Sheikh Mohammad Bin Zayed Al Nahyan, Crown Prince of Abu Dhabi and Deputy Supreme Commander of the UAE Armed Forces, United Nations Secretary General Ban Ki-moon and seven heads of state.

Accepting the award, Dr. Brundtland said: "I am greatly honoured and moved to be receiving this prestigious award from the Zayed Future Energy Prize. The legacy of Sheikh Zayed bin Sultan Al Nahyan is an inspiration to all who aspire to find solutions to the world's common challenges around the sustainable, equitable and secure access to energy and water."

From ensuring access to modern energy in rural African villages to empowering Bangladeshi women with careers as solar technicians, more than 202 million people around the world have experienced the sustainable actions of the Zayed Future Energy Prize winners. Through progressive achievements recognised by the awards, water security is now a reality for millions of families across Bangladesh, India, Ghana and the Philippines, Renewable energy sources supply electricity to a population the size of Italy and enough carbon emissions have been avoided to off-set the price of global deforestation for a year.

His Excellency Ólafur Ragnar Grímsson, President of the Republic of Iceland and Chair of the Zayed Future Energy Prize Jury, said: "This has been another outstanding year for the Zayed Future Energy Prize. This is made all the more impressive because of the sheer length and breadth of those that apply to be part of this global community. Those whose innovations are shaping their community today right through to those young people who are the next generation of leaders, innovators, and individuals willing to make a difference to the world around them."

His Excellency Dr Sultan Ahmed Al Jaber, UAE Minister of State and Director General of the Zayed Future Energy Prize, commented: "The prize is empowering ideas and knowledge-exchange that are on the frontline of ushering in a more sustainable future. It is only through the ability to recognise and foster these ideas that we are able to support those who are truly re-shaping communities across the globe. It is this that ensures the UAE is playing a predominant role in delivering what are fundamental human rights for all – the right to water, energy and a sustainable future."