About PowerEYE
PowerEYE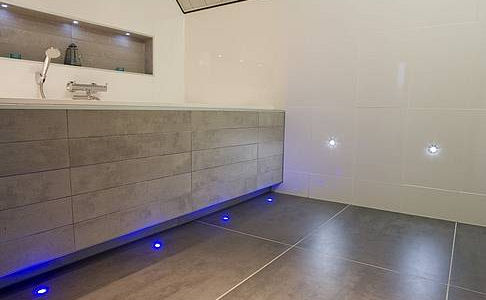 From now on, those hard to install, energy wasting, recessed can lights, with their heat problems, and short bulb life, are a thing of the past. By introducing the PowerEYE®, Eyeleds® managed to bring the latest PowerLED light engines to market, creating a distinctly decorative, ambient lighting solution. The PowerEYE® integrates the PowerLED light engine into the ultra-thin, low-profile, Eyeleds® housing, taking the first step to advance solid-state lighting technology from being purely decorative to a true ambient light source! Due to its low-profile housing, the PowerEYE® can be installed just about anywhere.
The PowerEYE® is available in two models, the PowerEYE® 360 ("PowerEYE Open") and PowerEYE® 180 ("PowerEYE Half Open") . The PowerEYE® 360 has a fully open lens that emits a 60° light beam, while the PowerEYE® 180 has an eyelid-shaped, stainless steel lens cover that directs the light downward with a 45° light beam. The PowerEYE® 180 creates a wall-wash effect when installed into vertical surfaces. The availability in a 'cool' or 'warm' white color makes it suitable for application in both modern and conventional designs.
Features & Benefits

A recess depth of just 6,5mm
Energy saving (1,5W per fixture)
Long lifespan up to 50.000 hours
Available in 'cool' and 'warm' white color
Special lens technology for a better light performance
Minimal heat development (< 55°C)
UV resistant materials
Plug & play installation
Possible Applications
Ceilings
Kitchen Cabinets
Display Cases
Book Cases
Recessed Cubicles
...

26 51 00 - Interior Lighting
26 55 00 - Special Purpose Lighting

Categories: LED lighting.