About Autopa Posts
Autopa Posts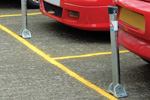 Designed for the reservation of individual car park bays. When erected the post prevents unauthorised access and provides control without the need for supervision. Only the authorised user's key will release the locking mechanism, allowing the post to be lowered and thus enabling the vehicle to pass over it.

01 55 00 - Vehicular Access and Parking
11 12 00 - Parking Control Equipment

Categories: locked posts car park access control.