About Safety Barriers & Vehicle Access Control
Safety Barriers & Vehicle Access Control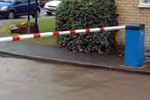 The Autopa AU series of Automatic Rising Arm Barriers has been proven to provide a robust and reliable means of effectively controlling vehicular access. Suitable for a wide range of applications, the barriers are designed for constant use and incorporate advanced drive and logic control functions with a quiet and rapid operation.

01 55 00 - Vehicular Access and Parking
11 12 00 - Parking Control Equipment

Categories: safety barriers vehicle access control.